Our esteemed President Jim Leet (Boutin/Jones Inc.) called the meeting to order. He thanked Mike Bullington for his introductory piano recital, and our greeters, Danny Gemma (HUB International) and Neil MacMullan (FARO Consulting & Solutions). Jim also thanked Cheryl Marcell (CA State Railroad Museum Foundation) for sponsoring the wine reception and tending bar, John Swentowsky (Swentowsky Photography) for capturing the meeting with photos, Rick Eytcheson (Capital Public Radio) for sponsoring the meeting and John Goralka (The Goralka Law Firm) for reporting this week's Pulse.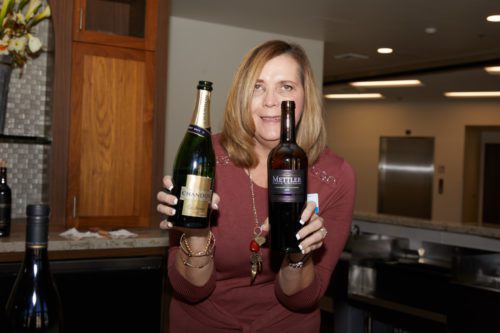 The Thought of the day was brought to us by Paul Keefer (Pacific Charter Institute), Paul reviewed the history of the 4-way test, which was adopted by Rotary International in 1943. The 4-way test asks: Is it the truth? Is it fair to all concerned? Will it build goodwill and better friendships? Will it be beneficial to all concerned? In 1932, Hebert Taylor, a member of the Rotary Club of Chicago, attributed the survival of his aluminum business during the depression to application of the 4-way test. Taylor faced adversity with courage and put the 4-way test into action. Paul challenged us to all courageously employ the 4-way test.
Our meeting sponsor was Rick Eytcheson of Capital Public Radio. Rick was pleased to report that Capital Public Radio is thriving despite challenges faced by many others in the industry. They enjoyed substantial increases with each of the impeachment hearings. Podcasts were becoming increasingly more popular. Capital Public Radio will be expanding with a new station in Chico "NPR – Time to Listen".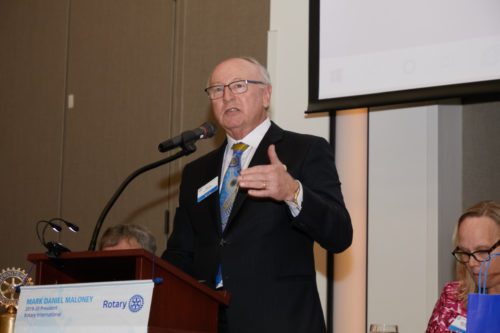 Alice Sauro (Sacramento Philharmonic & Opera) introduced Megan Wygant (Executive Director/ CLARA Claire Raley Studios for the Performing Arts) as a new member. Among Megan's many skills, Megan is a uniquely talented open water swimmer whose accomplishments include swimming the English Channel. Welcome Megan! Megan was sponsored by Allison Cagley (Friends of Sacramento Arts) and Alice Sauro.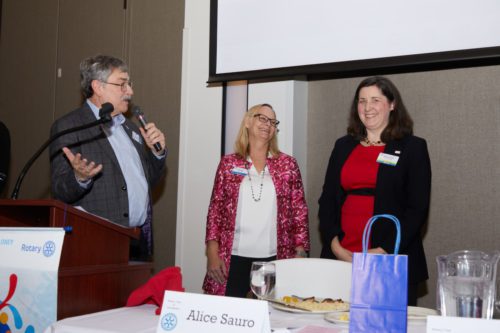 Ray Ward, our District Governor announced the new District Governor elect – Brent Hasley. Ray also reminded us of the Rise Against Hunger campaign. Please mark your calendars for Saturday, April 18th to pack meals for students in need. A donation of $75 will feed one child for an entire school year. Donations can be made at the Rotary 5180 website.
Announcements –
John McIntyre (Mercy Foundation) introduced our latest international student Audrey Solis, who will be traveling to Denmark.
Brown Bag presentations are on February 25th. Five opportunities are available.
Foundation Past President Becki Roberts reported that the Magical Winter Celebration on Saturday February 22nd is almost sold out. You need to act quickly to attend.
Mike Periera announced that Battlefields to Ballfields golf tournament will be held on June 22nd at the Del Paso Country Club.
We have a new Club Number at Vitalant.  as we are now (#70)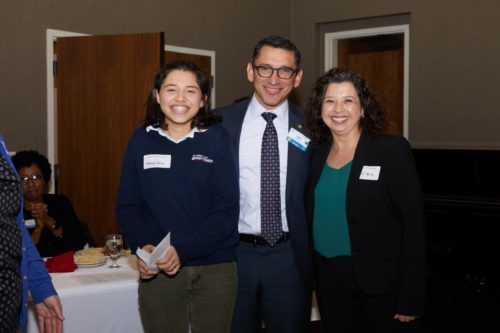 Dick Osen announced our speaker, Mike Periera NFL Rules Analyst and former Vice President of NFL Officiating. Mike opened with an offer of $100 to us if he did not have to discuss the pass interference call on George Kittle in the Superbowl. Mike reminded us that early in the season when both the 49ers and the Cowboys were 3-0, that he picked the Cowboys to win the Superbowl. Some of the highlights of Mike's presentation were:
His private meeting with Richard Sherman of the 49ers after Richard accused the officials of targeting him due to the comments he had made as a player representative.
He indicated that Kittle's full extension of his arm warranted the pass interference call in the Superbowl.
The Belichick delay of the game loophole should be closed with a rule change in the off season.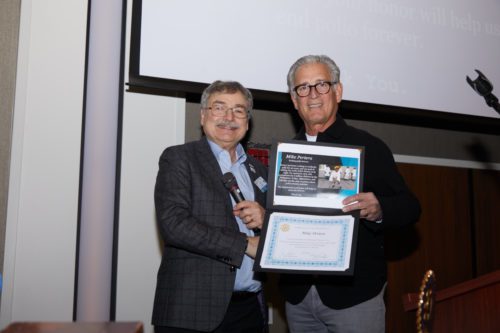 Mike also discussed the need for more referees/officials for his favorite charity, Battlefields to Ballfields' golf tournament, June 22nd. They have provided over 289 scholarships for veterans to date.
No meeting next week for President's Day – Brown Bag presentations are on February 22nd.  Our next meeting will be held on March 3rd for Jean Runyon Day, honoring women in Rotary for 30 years!