February 4th's meeting began with a warm welcome by President Elect Kevin Smith-Fagan (Fairytale Town). Special thanks were given to our greeters, John Shelby (Merchants Bank of Commerce), Julie Sherry (Watson Companies, Inc.) and Paul Keefer (Pacific Charter Institute). Kevin also thanked Jeff Setzer (Setzer Forest Products, Inc.) for sponsoring the wine reception, John Swentowsky (Swentowsky Photography) for photographing the meeting, and to Mark Luhdorff (IMD Path) for being our Pulse reporter & piano player.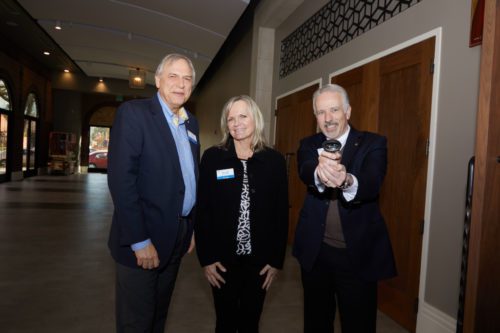 In honor of our guest speaker of the day, Invocator Rivkah Sass (Sacramento Public Library) reminded us of the importance of sleep – particularly the importance of naps. After the salute to the Flag and introduction to our guests, prospective members, and visiting Rotarians, Kevin provided a moving tribute and moment of silence for the passing of long-time member of the Club and Sacramento Rotary Fellow, Paul Stone.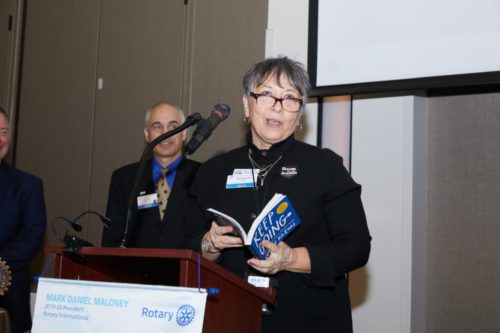 Chair of the day, Steve Horton (UCP of Sacramento and Northern California) gave an overview of the history UCP of Sacramento (opening its Sacramento office in 1955 and its Foundation in 2009), its programs (including bussing of children in wheelchairs over 1.3 million miles a year to various activities), and  the population of those served (primarily children with autism in addition to cerebral palsy, intellectual disability, and Down Syndrome). Steve then encouraged everyone to attend UCP's annual Humanitarian of the Year Award Dinner on April 23, 2020 honoring Arlen Orchard for his leadership in our community.
Robyn DeLong (Caldwell Banker) led the announcements by informing us that the next Fireside Event, at the home of Kathy Herrfeldt (Home Care Assistance), is on March 11. Callee Setzer (Setzer Forrest Products) let us know that Golf 4 Kids registration is open, sponsorships are available, and both can be found on the Club's website. Callee then urged us to sign up quickly for one of the five locations for the February 25 Brown Bag Day as space is limited. Buddy Hubbert (Mother Lode Capital) announced the postponement of February 12th's Entrepreneurship meeting until sometime in late March. Bruce Hester reminded us to get our signups in by next Tuesday for February 22nd's Magical Winter Celebration to be held in the Elks Tower downtown. Peter Dannenfelser II (Architectural Arts) informed us of the Rotary Club of South Sacramento's crab feed on February 8th. David Brandenburger (Newmark Knight Frank) let us know that judges are needed for the upcoming Speech Contest.
Kevin then invited the membership to "Go on a Journey!" First up, Pam Saltenberger $400, Paul Bystrowski (Hub International) $ 2000, Jeff Stone (Hub International) $500, Mark Luhdorff $200, Elfrena Foord (Foord, Van Bruggen, & Pajak) $200. So many Rotarians donated in honor of Paul Stone.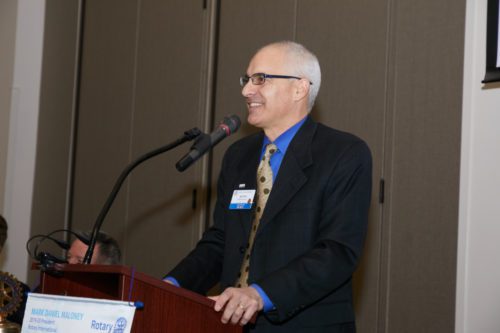 Chair of the Day, Cameron Law, and (Carlsen Center for Innovation & Entrepreneurship) introduced our Speaker of the Day, Dale Carlson. Carlson, the former CEO of Sleep Train & Mattress Firm, began his career working at a mattress manufacturing company here in Sacramento. As he rose within the company, he decided "I can do this better." Having the entrepreneurship drive that when seeing a problem, you want to fix it, he approached his father about opening his own company. Like most dads, Carlson noted, he gave his son the following advice; "DON'T DO IT!" Dale replied, "Okay."
In 1985, Dale waited until his folks went for their first trip out of the country, then Dale quit his job, bought a truck, and opened his first store. Sleep Train was born.  Dad wasn't happy but gave Dale the following bit of advice: "Surround yourself with good people. Treat them right and make everybody successful."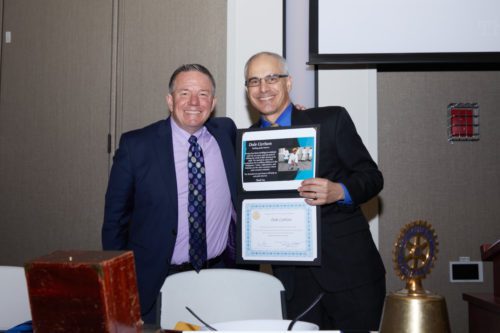 In the end, there were 317 stores in six states with 1600 employees doing a half billion in annual sales. In 2006, now very successful, Dale began researching employee stock option plans. He wanted to share the good fortune with his employees. Over the next four years, with his wife's support, they gave 25% of the company to their employees. Four years after that, in 2014, the company had grown 800%, because the employees were now owners. "That ownership mentality made a huge difference."
Soon after, the desire to get the money out of the corporation and into the hands of the employees, coupled with their desire to take their "Ticket to Dream" foundation for foster kids nationwide, led Dale to sell Sleep Train.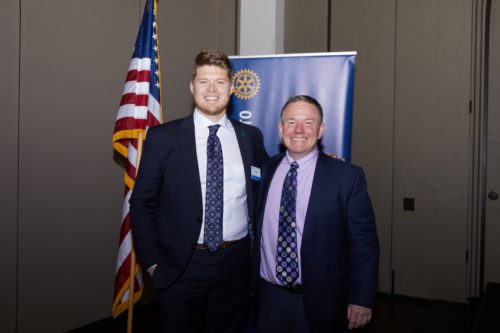 Ticket to Dream became the first nationwide foster kid coordinating charity, serving roughly 165,000 of the nation's 425,000 foster kids, and doing so in all 50 states with 215 partners.
Next, through a six million-dollar donation to the university, Dale launched the Entrepreneurship Center program at CSU Sacramento. It's focus: to bring people together to create new businesses and jobs for kids in our region so that they don't feel it necessary to move away for a job.
After finishing his planned talking points, Dale opened up the floor to questions, yielding additional stories of philanthropy such as the Ticket to Dream's efforts to assist foster kids who "age out" of the system.
We look forward to seeing you next week. Our speaker is Mike Periera former Vice President of officiating for the National Football League (NFL).