President Jim Leet's (Boutin Jones Inc.) term kicked off with many heartfelt testimonials from family and colleagues, some terrific fellowship, and a whole lot of rock & roll! Emcee for the day Dick Osen, called the meeting to order at 12:10 p.m. and announced the presentation of the 2019-20 Trustees of the Foundation;  Becki Roberts (Central Valley Community Bank) – President, Rick Davis – Vice President, Linda Geery (Gilbert Associates, Inc.) – Treasurer, Elfrena Foord (Foord, Van Bruggen, & Pajak), Rick Osen (Sutter Builders, Inc.), Len McCandaliss, Larry Gilzean (Spare Time Sports Clubs), Virginia Wade, Mike Gilligan, Ted White (Sacramento Delta Property Management), Jamie Furlong (Legacy Investment Real Estate), Bob Daly (Financial Network Wealth Advisors),  and Officers of the Club Kathe Nathan (Merchants Bank of Commerce) – Treasurer, LaToya Wong – Secretary, Heidi Hershenhouse, Jonathan Marz (Terrapin Technology Group), Kelley Moran (Moran & Associates), Callee Setzer (Setzer Forest Products), John Wood (McGee & Thielen Insurance Brokers) , Margo Fowkes (OnTarget Consulting, Inc.),  Kathy Herrfeldt (Home Care Assistance), Jackie Kirkwood (Goodwin Cole Company), Todd Koolakian (Sacramento Children's Home), John Phair concluding with President-elect Kevin Smith Fagan (KVIE Public Television), and your 2019-20 President Jim Leet.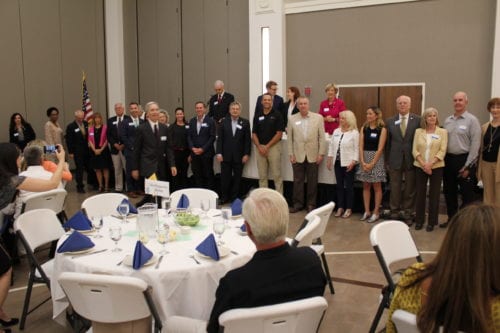 MEETING SPONSOR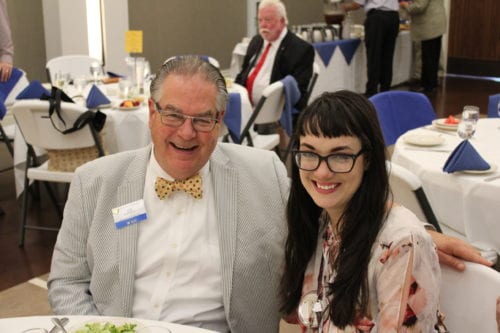 Meeting Sponsor Ed Wright (Attorney, Martensen Wright PC) donated his time to the B Street Theatre, represented by Lindsay Burch.  In 2018, B Street moved to its brand new, state-of-the-art-complex: The Sofia Tsakopoulos Center for Performing Arts, which has enabled them to double the number of children they are able to serve. Since 1986 1.5 million kids have benefited from B Street's programming, and this summer their reach goes international as children in Beijing will get to experience their performance of The Lion, the Witch and the Wardrobe – part of an international arts festival.
ENTERTAINMENT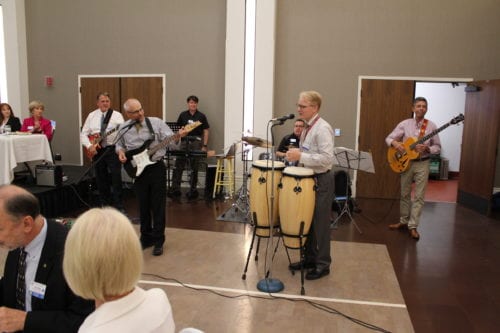 During lunch the Rotary Rockers (Kevin Smith-Fagan, John McIntyre (Mercy Foundation), Kevin Williams (KVIE), Mark Luhdorff (ANPAC Bio), Jeff Stone (HUB International) and Tom Bacon (BCRE – Bacon Commercial Real Estate) returned with four crackerjack performances, leading off with "Bad, Bad Leroy Brown" to remind us all that you "don't mess around with Jim."  They then paid homage to President Jim's profession with the Beatles' "Taxman," set him up for a year of great expectations and successes with the Eagles' "New Kid in Town," and wrapped up with Boz Scaggs' "Lido Shuffle."
THE MAN OF THE HOUR
President Jim's friend and colleague Bob Rubin told us how open, giving and unselfish Jim is, how he stands up for others, and shared that his culinary guilty pleasure is (lots and lots of) peanut butter. Then Jim's son and daughter Christopher Leet and Elizabeth Leet Jackson shared with us Jim's sometimes unique approach to navigation and sage advice that "not all who wander are lost." They shared his dedication to teamwork and big-picture thinking, and his commitment to helping people do their personal best in order to best serve the community.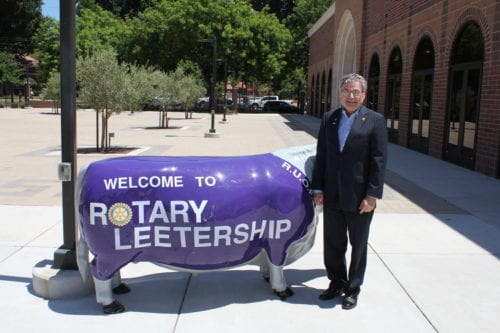 Past President Diane Woodruff pinned President Jim and officially inducted him to office. President Jim thanked Diane for her leadership and his family for allowing him to serve during the coming year. He shared that his answer to the question "What is Rotary about?" can be summarized in five words: Compassionate Leaders Impacting Diverse Communities. He asked us to remember – if ever we feel that we can't make much of a difference as an individual – that even incremental good is still good done in the world.
Some new and recurring initiatives for the year ahead include:
The Jean Runyon Community Service Recognition to celebrate the 30th anniversary of the first female member of the Sacramento Rotary, Jean Runyon, a champion of many charitable and civic causes in our region. Details about how to submit a nomination will be coming soon!
A new Entrepreneurship Committee and fireside chats to facilitate the exchange of ideas and expertise.
A Leap Year party on Saturday, February 29 to benefit Sierra Forever Families
Community Action Teams
Sacramento Century in partnership with Sacramento Children's Home
THANKS TO MEMBERS WHO SERVED AT THIS MEETING
The day's wine sponsor was Steve Huffman. Piano was played by Elfrena Foord. The door greeters were Don Ellwanger (Sperry Van Ness), Laurie Wright (Tri Counties Bank), and Dave DeRoos (Citygate Associates, LLC). Past President Walter Dahl (Dahl Law, Attorneys At Law) provided the Thought for the Day. Sergeants-At-Arms were John Wood, Christie Holderegger (Volunteers of America), and Maggie Hopkins (Capital Premier Lending). Pulse Reporting was taken by Danielle McGarrity (Children's Receiving Home of Sacramento). Thanks to Mike Bullington for the photography.