It was an action-packed club luncheon with a big focus on the generosity of club members and the club's philanthropy, followed by far-ranging comments by the head of the state Chamber of Commerce Allan Zaremberg.
David Brandenburger (Newmark Knight Frank) was the meeting sponsor and he graciously donated his time to Dr. Darice Goodman, CEO of the League to Save Lake Tahoe.  She showed a short video stressing the importance of preserving Tahoe's blue color and clarity.  Keep Tahoe Blue is one of the oldest and largest foundations in the area.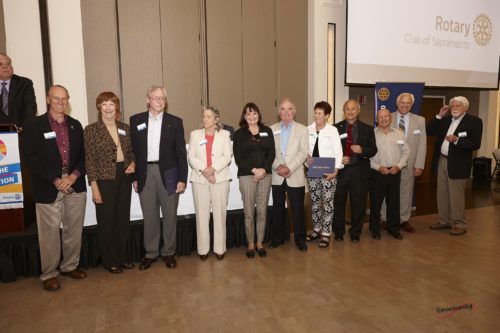 With incoming foundation president Becki Roberts (Central Valley Community Bank) at his side, current president Steve Heath honored 13 club members who have achieved Eddie Mulligan or Paul Harris fellows.
So honored were Craig Brown (CB Property Inspections), Larry Cassidy (Northern California Collection Svcs), Sylvia Fitzgerald (Art Appraisals & Estate Services), Elfrena Foord (Foord Van Bruggen & Pajak), Mike Gilligan, Kathy Herrfeldt (Home Care Assistance), Bruce Hester, Judy Kjelstrom, PP Tim Pinkney, Bob Rosenberg (Inve$tnet Inc.), Steve Shiflett (CA State Parks), Jon Snyder (Snyder Commercial Real Estate), and Horace Wulff.
Committee chairman Kevin Williams (PBS KVIE) reported on the club's Community Grants Committee, and committee members presented $17,000 total in club grants to visiting representatives from recipient nonprofits.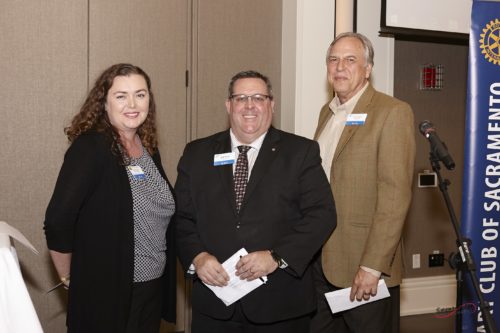 Grantees and their projects are: Sacramento Cottage Housing (arts and culture for underserved kids);  Sacramento Philharmonic and Opera (music education for underserved students); Sierra Forever Families (mentoring program for foster children); Sacramento Public Library Foundation (summer reading program); California CareForce (dental clinic for the underserved); Friends of Folsom CERT (emergency response trailer); GraceCity Center (improvements to training kitchen); Children's Receiving Home of Sacramento (renovation of youth living and recreational spaces); and UCP of Sacramento and Northern California (arts space for autistic children).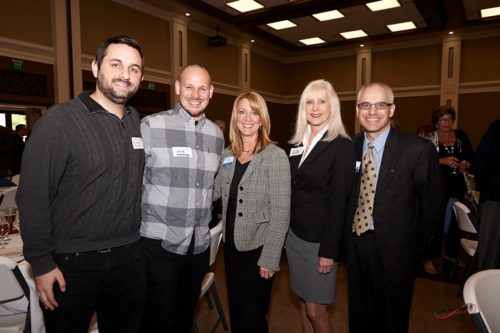 Among those serving on the committee were Past President Peter Dannenfelser (Architectural Arts), Patrick Furlong (Legacy 1031 Exchange Solutions), Larry Gilzean (Spare Time Sports Clubs), Dee Hartzog, Cameron Law (Social Ventures Partners of Sacramento) , Tim Maurice (UC Davis Health), Theresa Wheeler (Prevail Public Affairs),  Kerry Wood (Sacramento Region Community Foundation), and President Elect-Nominee Kevin Smith-Fagan (KVIE PBS).
Club Announcements –
. Armed Forces Day will feature a photo wall and you're invited to submit pictures of loved ones, said PP John Lemmon (Knox, Lemmon & Anapolsky)
. Golf for Kids is next Monday, May 6!
. Meeting Sponsors – we need a June 4 sponsor, reported Judy Kjelstrom.
 Club fines/donations included Dan Guth (American River Bank ) for recognition in the Sacramento Business Journal, and same for Christie Holderegger (Volunteers of America), who also promoted VOA's May 2 fundraising breakfast.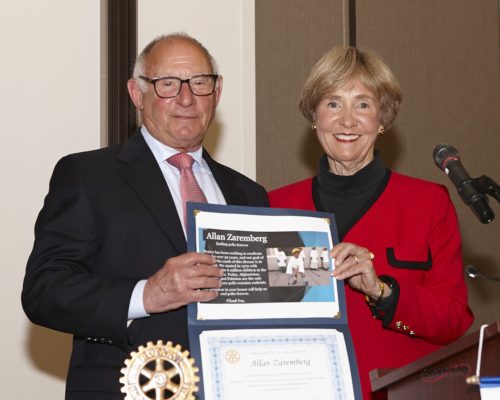 Chair of the Day PP Jon Snyder introduced Allan Zaremberg, president and CEO of the California Chamber of Commerce. In his colorful way, Allan discussed politics and policy with anecdotes ranging from Willie Brown to Jerry Brown. The economy?  Allan said it is as good as it's gonna get.  Why?  Full employment. The consequences? Housing prices are on the rise, parents are worried about the next generations' prospects, and there are productivity questions. Allan cited research universities as crucial to growth, with a glaring lack in the Central Valley; UC Merced is a step in the right direction. He also covered voter priorities on candidate personalities versus issues, streamlining growth, President Trump, health care, high-speed rail, and tax reform inequities among other topics.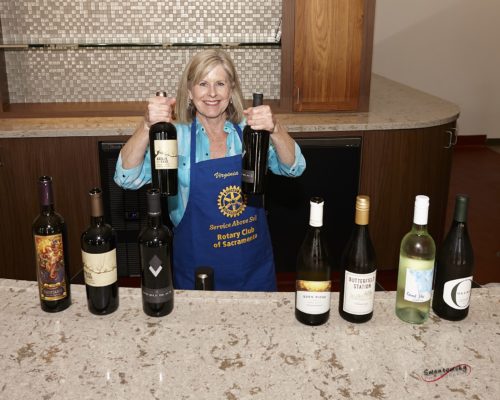 Greeters included Giuliano Kornberg (Sacramento Philharmonic & Opera), Alice Sauro (Sacramento Philharmonic & Opera), and Carolyn Carr.  Photos were handled by John Swentowsky (Swentowsky Photography), and Virginia Wade hosted the wine reception. Tim Maurice (UC Davis Health System) kicked off the meeting with the Thought for the Day. Sergeant-at-Arms Elfrena Foord welcomed our guests, prospective members and visiting Rotarians.  PP Skip Lawrence got a few groans and eye rolls for his "Smile for the Day."
Our next meeting will be the May 14 celebration of the Golf for Kids fundraiser.