President Diane Woodruff welcomed all to the strains of Kool and the Gang's "Celebration," and gaveled the meeting to order at 12:10 pm, with thanks to all for the recent and successful Golf 4 Kids event.
President Diane thanked:
Greeters Andrew Mendonsa (Pacific Forensic Psychology Associates, Inc.) and Ruth Tesar (Northern California PET Imaging Center)
Pulse reporter John McIntyre (Mercy Foundation)
John Swentowsky (Swentowsky Photography) for capturing meeting visuals,
Ted Grebitus (Grebitus Jewelers) and Jeff Setzer (Setzer Forest Products Inc)for pouring at the Wine Reception "in honor of Ed Grebitus."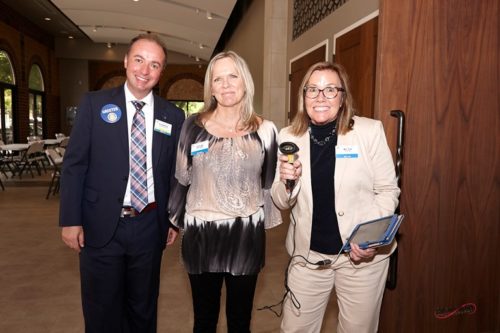 Thought for the Day presenter Buddy Hubbert (Mother Lode Capital) shared thoughts about golfer Bobby Jones, who lived his life "like a Rotarian, whether he was one or not." Buddy shared reflections about Bobby and offer Rotarian-quality quotes.
President Diane requested a moment of silence in honor of long-standing member Ed Grebitus who passed away recently. After that moment, Ted Grebitus offered his thanks to members who sent cards encouraging Ed – they were much appreciated and ensured Ed didn't feel alone or forgotten.
President Diane invited John Wood (McGee & Thielen Insurance Brokers) to the rostrum, who then lionized a club member – a lifelong learner, a wise and good communicator, an individual with a passion for self-improvement and growth and someone who believes that the quality of life rests on the quality of your relationships… He also noted that this Rotarian had lost a son tragically, yet found a way to create positives, writing two books reflecting on her journey from grief to grace. With very few eyes left dry by this time, John announced Robyn DeLong (Coldwell Banker) as our newest Rotary Fellow!
President Diane called forth the Gang of Four: Past Presidents Dan McVeigh (Downey Brand LLP), Susan Sheridan, John Lemmon (Knox, Lemmon & Anapolsky, LLP) and David Cohen (Cohen – Durrett) to join her in celebrating the five years of leadership of Golf 4 Kids by Bob Miller.
Bob was then presented with a Paul Harris and an enormous box of chocolates.
President Diane then lined up Past President Susan Sheridan, Roy Alexander and Bob Miller (First US Community Credit Union) to honor Past President Diane Mizell for her gentle-but-ruthless fundraising on behalf of the Club – more than $50,000 for the Sac Century and more than $18,000 for Golf 4 Kids, which Bob Miller noted was nearly half of the event net!
Past President Diane was presented with her third Paul Harris.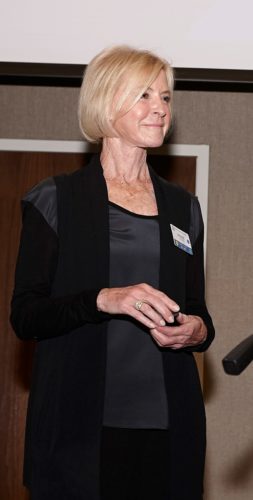 CLUB ANNOUNCEMENTS
Armed Forces Day – Past President John Lemmon noted that Armed Forces Day is next week – vets and family of vets, bring your memorabilia to share with the club, as we honor our veterans.
Rise Up Against Hunger – Jackie Kirkwood (Goodwin Cole Company) invited members to participate in Rise Up Against Hunger on May 17 and to keep an eye out for an email inviting participation in repairing the homes of families in need.
Theater Night – Allison Cagley (Friends of Sacramento Arts) encouraged everyone interested in genies to join fellow members attending 'Aladdin" (with dinner at Lucca prior) on June 1st.
Blood Drive – Callee Setzer (Setzer Forest Products) and Kathe Nathan (Merchants National Bank) encouraged interest and participation in our upcoming Blood Drive the week of May 20 (sign up with Vitalant and use code 6569 to get the club credited)
Loaves & Fishes – John Swentowsky noted that Rotary aprons arrived for all who ordered them AND he needs people to use them at Loaves & Fishes on Thursday, May 30!
LET'S EDUCATE SOMEONE
It was a free-for-all, fine-yourself donnybrook:
Past President John Lemmon celebrated the recent birth of his 6th granddaughter, born in Denver.
Steve Huffman made a gift in honor of Ed Grebitus
Kiefie Brewer noted that she and Art celebrated the arrival of their 3rd great-granddaughter.
Norm Marshall (Headwaters Construction) announced that his son Parker had earned his commission, becoming a Navy officer.
Jim Phillips rose to honor Past President Diane Mizell, who as a pilot herself, accompanied Jim on his recent pilot license review.
Bob Daly (Financial Network Wealth Advisors) honored his friend Bob Miller with $100 toward his next Eddie Mulligan
Jeff Setzer (Setzer Forest Products) noted that Ed Grebitus had six kids, so Jeff made a gift in honor of each of them.
Robyn DeLong offered a gift in gratitude to the club and in thanksgiving that her son and mother could be here today
Ted Grebitus wanted to ensure that those who were interested got the info on his father's memorial service and suggesting that 'in lieu of flowers' gifts should go to the Rotary Club of Sacramento Foundation
Mike Bullington put $100 each for his Eddie Mulligan and Paul Harris, honoring Bob Miller as he did so for running Golf 4 Kids AND for excellent skeet shooting.
President Diane turned over the microphone to Bob Miller, so he could summarize the success of Golf 4 Kids! He shared photos, starting with one featuring several of the kids who he and others have gotten to know over the years through this event, whose courage and grace inspire everyone involved with Golf 4 Kids. Bob wanted all to understand that the most important thing about our event is the support it provides to these and other fantastic kids, who benefit from the specialized equipment and other support this event provides them.
He noted that the event raised nearly $60,000, which, after expenses, left a net of just over $40,000 to benefit the children at the special schools this event annually supports, including:
Fern Bacon Middle School; and,
Luther Burbank High School
Bob then turned his attention to the sponsors and volunteers who made the event such a success, showing logos and photos of the following, much-appreciated sponsors:
Dinner Sponsor: Sacramento Delta Property Management (Ted White)
Lunch Sponsor: Gilbert & Associates (Linda Geery)
Hold-in-One Sponsor: SAFE Credit Union (Virginia Wade)
Fun Hole Sponsor: Elfrena Foord, Past President Susan Sheridan, and Becki Roberts
Raffle Prize Sponsor: Rulands Used Furnishings (Steve Ruland)
Beverage Cart Sponsors: Gabriel Gendron (Lyon Real Estate), Jeanne Reaves (Jeanne Reaves Consulting), and Past President Rob Scherer
Wine Sponsor: California Moving Systems (Dave Higdon)
Social Media AND Accurate Drive Sponsor: Uptown Studios (Tina Reynolds)
$10K Shootout Sponsor: JD Lauppe
Long Drive Sponsor: Kelley Moran (Moran & Associates)
Bloody Mary Sponsors: Merchants National Bank (Kathe Nathan) and Home Healthcare Assistance (Kathy Herrfeldt)
Breakfast Sponsor: Headwaters Construction (Norm Marshall)
Top Places Sponsor: President Diane Woodruff
Foursome Sponsor: Forrest Junod
Closest-to-the-Pin Sponsor: Grebitus Jewelers (Ted Grebitus)
Insurance-Against-Lucky-Shots Sponsor: EventHelper.com
Hole Sponsors: Golden Pacific Bank and Tri Counties Bank
Bob also called out some individuals for their gifts and volunteership;
Personal Sponsor: Bruce Hester, Past President Jon Snyder, Heidi Hershenhouse and Ed Melia
Photo Sponsor: John Swentowsky
Diane Mizell for subtly strong-arming more than 100 Tee Sponsors
Callee Setzer for herding cats (organizing volunteers)
Golf 4 Kids Organizing Committee: Bob Daly, Dick Osen, Rick Osen, Dave Higdon, Callee Setzer, Laurie Wright (Tri Counties Bank), Mike Bullington, Past President Diane Mizell, Brandon Montalvo (Morgan Stanley), and the indefatigable Bob Miller.
Lastly, Bob recognized the Rotary Office Staff, who worked tirelessly to make the event a success – LaToya Wong, Sulaf Al Ajeeli and Barbara Clegg were recognized with a standing ovation for their heroics.  In closing, he thanked the club, President Diane, and everyone involved for their participation in Golf 4 Kids' success. Bob encouraged everyone to be just as enthusiastic next year, when the event will be led by Callee Setzer and Brandon Montalvo.
Sergeant.-at-Arms Elfrena Foord announced that we will meet again next Tuesday at the same location to celebrate Armed Forces Day at Rotary.
After a surprise-filled meeting, President Diane called Past President Skip Lawrence and Elfrena Foord to the front, as she announced that she and they would be off to Hamburg, Germany for the Rotary International Convention. They then, ill-advisedly, recreated the 'Goodnight' scene from The Sound of Music – "So long, farewell, auf wiedersehen, good night…" Blessedly, none gave up their day jobs…
President Diane concluded the meeting at 1:31 pm.