The club hailed the troops, past and present, at the club's annual Armed Forces Day celebration.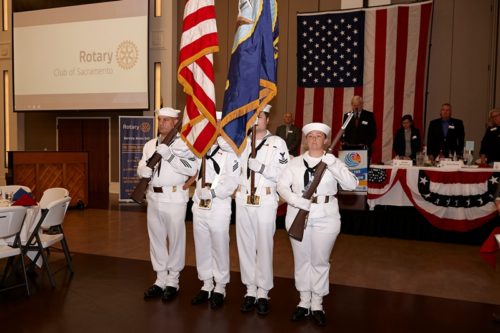 The patriotic tone for the day was set with the ceremonial posting of colors by a U.S. Naval Color Guard, and the club's singing of the national anthem, led by Jon Snyder (Snyder Commercial Real Estate), Kevin Williams (PBS KVIE) and Kevin Smith-Fagan (PBS KVIE).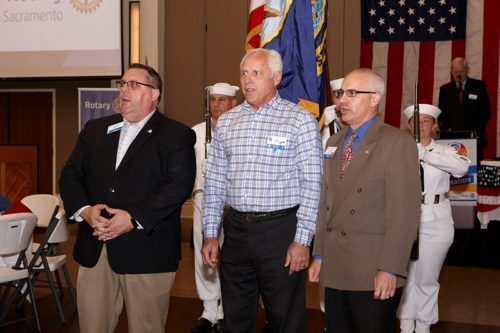 Meeting sponsor Dr. Don Brown donated his time to the Sacramento Philharmonic and Opera, and fellow club member Giuliano Kornberg (Sacramento Philharmonic & Opera) presented an overview of the organization's service to the community, its youth programs, and its plans for the upcoming season.
Army veteran Past President Dan Cole (CPG West) presented an overview of the Army's work and recognized those present who served in the Army. Ron Crane (DCA Partners) did the same for the Navy; Jackie Kirkwood (Goodwin-Cole) for the Marines and the Coast Guard and; Rick Davis for the Air Force. Gunnery Sergeant Kirkwood graciously thanked the Navy for giving Marine units rides to its battles, and Petty Officer John Swentowsky privately expressed appreciation to the Marines for its perfect record in guarding the gates at naval facilities; in over 225 years, he reported, none have been stolen.
Several club members and their family members were noted for their service. Jackie Kirkwood recounted Past President Dan Cole's heroism in World War II, in which he earned accolades including a Silver Star. Strati Vourakis (Calm Computing) shared stories of Past President Thom Gilbert's 687 helicopter mission flights, mostly in Vietnam. Past President John Lemmon (Knox, Lemmon & Anapolsky) highlighted Rick Davis' service as a B-52 pilot in the Air Force. We also noted Maggie Hopkins' (Capital Premier Lending) husband Steve, who served as a flight engineer instructor. In a true Rotarian spirit of inclusion, the club honored the service of Lev Kaganovich (energy consulting) in the Russian military, and Lev, having seen both sides of the Cold War, expressed his clear preference for freedom in the USA.
Many current servicewomen and men are connected to the club. Strati noted the service of two of Past President Walter Dahl's (Dahl Law) children – his son Morgan Dahl, a Navy officer decorated for leadership, and Walter's daughter Anna Louise Dahl, who has just been commissioned as a Navy officer and is off to Pensacola for pilot training. Jackie Kirkwood recognized Past President Susan Sheridan's son Luke Sheridan, a recent graduate of Army Ranger School. We also tipped the cap to Jim Streng's (Streng Brothers Rentals) grandson currently serving in the Air Force.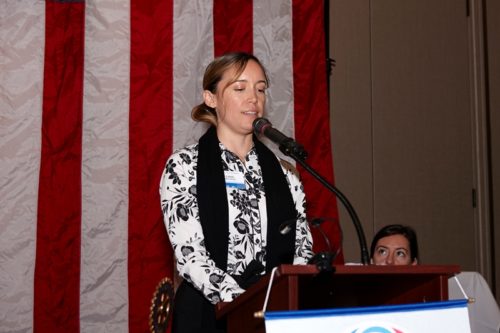 World War II stories from the "Greatest Generation" members in our club highlighted the luncheon. Steve Huffman told of the bravery of his uncle Bob, a member of the 101st infantry who fought in Germany and France and earned a Bronze Star; drawing an arc from past to present, Steve also pointed out his lunch guest McKee Huffman, an ROTC cadet at McClatchy High School. Strati hailed the service record of the late Bill Stone, a B-25 pilot in the Pacific theater. Jamie Furlong (Legacy Investment Real Estate) recalled the heroics of her late grandfather Mead Kibbey, who participated in D-Day at Normandy as executive officer of a minesweeper in peril. Jackie recounted the bomber piloting of Maynard Nelson. Past President John told us about his late father, Past President Vince Lemmon — who spoke to our club's May 18, 1944 meeting and shared his experiences as B-17 pilot enduring hellish dangers in repeated bombing runs over fortified Germany. Vince served as club president in 1960.
Many more servicemen and women connected to the club were cited, including lunch guest Gregory Kondos, guest of Dr. Barbara Arnold (ophthalmology), and the club honors and thanks each one for her or his service protecting the nation.
Past President John Lemmon filled in as meeting presider for President Diane, who is off leading our club trip to the Rotary International convention in Hamburg. Sergeant-at-arms duties were handled by Robyn DeLong (Coldwell Banker) and Jeff Stone (HUB International).
Past President Peter Dannenfelser (Architectural Arts) hosted the wine reception. Marcella Cooper (Girl Scouts Heart of Central California) delivered the thought for the day. Pregame piano entertainment was delivered by Mike Bullington, and Maggie Hopkins served as a door greeter. John Swentowsky (Swentowsky Photography) handled the photography.
Next week's meeting will feature entrepreneur Mark Haney as guest speaker.