After being introduced by Chair of the Day Brian Turner (Law Office of Brian H. Turner), Sacramento District Attorney Anne Marie Schubert, a life-long Sacramentan, started off her talk with recognizing the important Rotary theme – Service Above Self – and how that reflects her work and the work of her department.  The DA's office includes 175 lawyers who review an average of 45,000 cases annually. The Sacramento DA's office is recognized nationally as an expert in DNA forensics.  Sacramento is leading the nation in using this science, along with good police work collaborating with multiple agencies.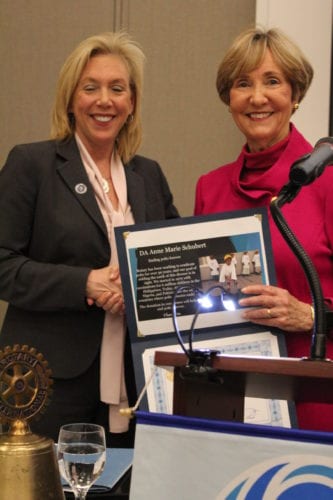 DA Schubert shared stories of cold cases being solved through DNA and Genealogy including the recently apprehended East Area Rapist suspect. The DA's department conducts a variety of educational programs including a 12-week Citizen's Academy and a Youth Academy focusing on a better understanding of how the criminal justice system works. With Sacramento being one of the most diverse cities in the country, a "Know Your Rights" educational program is shared with the immigrant communities scattered throughout our area.
President Diane thanked Paul Stone and Dick Wertz for providing beautiful piano music during the reception time and thanked greeters Joel Hockman  (Pucci's Pharmacy), Mark Luhdorff (ANPAC Bio), and Kerry Wood (Sacramento Region Community Foundation). President Diane also thanked photographer Mike Bullington (Northwestern Mutual Financial Network) and wine hosts Dan Fenocchio (Cunningham Engineering) and Bob McLean (McLean & Tillotson). President Diane thanked today's Pulse scribe, Allison Cagley, and Captain Ivan Wild (Salvation Army) for the Thought for the Day, noting his leadership and front-line involvement with the recent fires and the victims.
Service Above Self in Action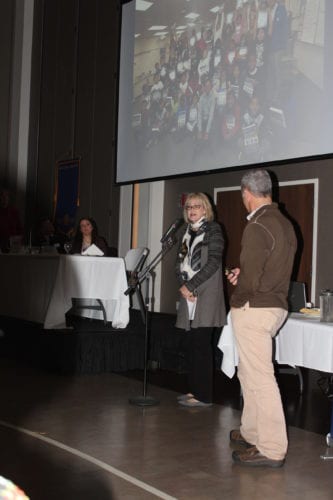 Nancy Teichert and Jim Culleton (Strong & Associates) updated the club on the recent dictionary distribution project. They recognized Cameron Law (Social Ventures Partners of Sacramento) and Jaena Nakagawa (Tri Counties Bank) who were instrumental in this project and shared some photos and stories about what a special and important gift the dictionaries are to children who may not have even one book at home to call their own.  Funds from Eddie Mulligans and the Rotary Club Foundation help make the purchase and distribution of dictionaries to third graders possible.
Meeting Sponsor – Dan Cole – January 15, 2019
Thank you for being our Meeting Sponsor and donating your time to Nikki Wardlaw and College Track. The College Track program focuses on college prep, access and completion. The 10-year promise to each student is to assist them from incoming freshman year of high school through college and into a career. College Track is currently serving over 200 students in the Sacramento area and 91% will be the first to graduate college in their family.
Club Announcements
Steve Huffman asked Rotarians to write a note to Jon Snyder (Snyder Commercial Real Estate) who recently had a hip replacement. Bruce Hester announced the nine openings for Brown Bag Day sites scheduled for February 12. Kathe Nathan (The Merchants National Bank) reminded Rotarians to sign up for the Blood Drive. Kevin Williams (KVIE) announced the Community Grants program is open and is accepting grant applications through February 20 with the application available on the Rotary Club website. Ed Wright (Martensen Wright PC) invited Rotarians to the Fireside gathering at his home on February 13th and will feature his personal winery collection. Dave Higdon (California Moving Systems) (dressed as Cupid) promoted the February 9 Valentine's Day Sweetheart Dinner at Mulvaney's for $100 per person.
Let's Educate Someone!
President Diane recognized Margo Fowkes (OnTarget Consulting Inc.) and her appearance in a number of publications including the Sacramento Business Journal.
Kathy Herrfeldt (Home Care Assistance) donated to the Eddie Mulligan fund of Rotary Member Captain Lisa Hinz in honor of her work on the police force and in memory of the Davis police officer, Natalie Corona.
Rita Gibson (Rita Gibson Ins. & Investment Services) donated in honor of her 30th wedding anniversary and Jim Mattesich donated in honor of his first grandchild – a baby girl born this month.
The day concluded with the Smile for the Day by Past President Skip Lawrence.