From Cupid undies to Olympic softball to fortune cookies, it was just another routine club luncheon under the refined leadership of President Diane Woodruff.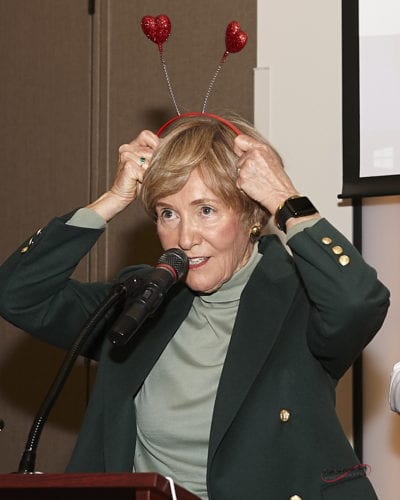 Meeting sponsor Amanda Merz of SAFE Credit Union provided an upbeat presentation about SAFE's deep involvement in the community. SAFE supports veterans and financial education in the community including high school students. Also, SAFE provides 16 hours of paid volunteering to its employees!
The Rotary Club of Sacramento welcomed its newest member, Strati Vourakis (Calm Computing), who was introduced by Kathy Herrfeldt (Home Care Assistance).
Club Announcements
Brown Bag Day – Several Rotarians teased their presentations for Brown Bag Day on February 12, and all are encouraged to pick a favored location while there's space.
Theater Group Outing – Allison Cagley (Friends of the Arts) promoted the March 2 gathering, featuring dinner at Lucca and tickets to "Best of Broadway" at the Community Center Theater. Only a few tickets remain and each costs $106.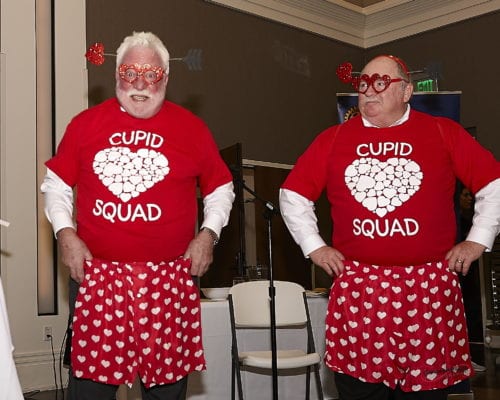 Sweethearts Dinner – Norm Marshall (Headwaters Construction) and Dave Higdon (California Moving Systems) announced the club's Valentine Dinner at Mulvaney's on February 9. It's $100 per person and they're looking for at least 10 more participants. Like gentlemen they endured some humiliation from Finemaster John Wood (McGee & Thielen Insurance Brokers), who adorned them in garish Cupid gear.
Mystery Trip – Past President Wes Yee (Yee Dental) provided, as one might expect, little detail on the April 6 Mystery Trip, which is open to spouses and families. He did promise a great time and maybe even a fortune cookie.
Community Grants – Kevin Williams (KVIE PBS) reminded Rotarians that applications for the club's Community Grants program are available to worthy nonprofits until February 20, with information and the application available at the club website.
During Let's Educate Someone!, Past President John Frisch (Newmark Knight Frank) learned the hard way that it is important to wear your Rotarian pin when out and about. Also, proud mom Margo Fowkes (OnTarget Consulting) shared news that her daughter, a Stanford softball outfielder, is now on the Israeli national team with the goal of playing in the 2020 Summer Olympics. Mik Miklaus (Integrity Mortgage) celebrated 40 years in the club with a generous donation. Ron Crane and Jeanne Reaves (Jeanne Reaves Consulting) made a donation as well.
Rick Osen (Sutter Builders) introduced guest speaker Mike Heller, founder of the commercial development firm Heller Pacific. Mike provided insights into the generational benefit of his own family in developing his craft as an important developer in the city of Sacramento. Mike discussed the long road to fruition for his Ice Blocks development on the R Street corridor, a site which includes a new building that won a national award for its wood construction.
 President Diane was quick to thank:
. door greeters Grant Bledsoe (Three Oaks Capital Management), Todd Andrews (Andrews Construction), and Art Breuer;
. John Swentowsky (Swentowsky Photography) for capturing images;
. wine reception sponsor Len Simpson (2020 Financial Advisors of Sacramento) and reception pianist Jack Anderson (Dick James & Associates); and
. Thought for the Day presenter Ron Crane (DCA Partners) and Smile for the Day quipper Past President Skip Lawrence.
Next week's meeting will feature NFL rules expert and Fox Sports analyst Mike Pereira, who will offer postgame thoughts on the Super Bowl and trends in the NFL.