It was a boisterous time at the weekly club luncheon, but it began on a somber note.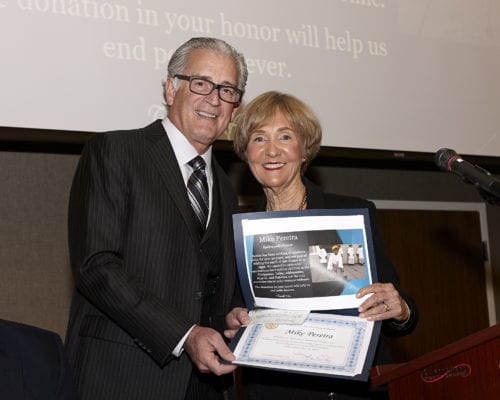 President Diane Woodruff shared the sad news that longtime club member Bob Gaines had passed away. The club observed a moment of silence in his honor. Services for Bob will be held on February 24 at 3pm at Trinity Cathedral.
Rotary Youth Exchange chair John McIntyre (Mercy Foundation) introduced Christian Brothers high school senior Eva Anders, who will be our club's outbound RYE student next year. Eva, who was hoping for South America as her destination, opened the telling envelope to discover she would spend next year in…Brazil!
Meeting sponsor Larry Gilzean presented an overview of Spare Time Clubs and its mission to provide "the best part of a member's day." Larry stressed that his eight clubs (plus tennis center) around the area provide a variety of exercise options – from yoga classes to swimming to basketball to tennis and racquet sports. Being fit, he related, is not a short-term goal but a lifestyle proposition, and Spare Time is a place you can do it.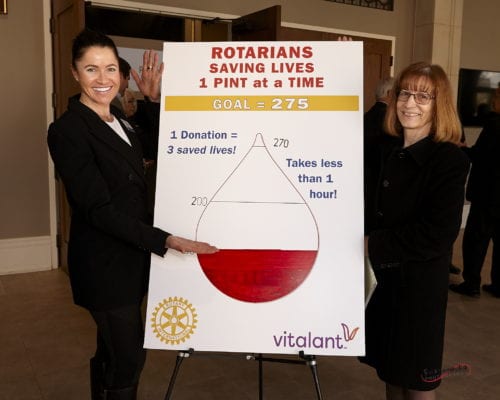 Blood drive co-chairs Callee Setzer (Setzer Forest Products) and Kathe Nathan (Merchants Bank of Sacramento) reported that we have made 105 donations and surged ahead of Point West, but that more donations are greatly needed so Rotarians should make sure to sign up.
Past President Brian Van Camp (ADR Services) recounted his thrill-seeking in New Zealand, and backed up his fantastic claims with video footage of his bungee jumps off an Auckland bridge and from the city's Sky Tower. He contributed $1,000 to the club in recognition, apparently, of surviving. Jeanne Reaves (Jeanne Reaves Consulting) was spotted in a business magazine and was fined by President Diane for it. Chris Ann Bachtel (Exchange Bank) donated to the club in recognition of her 20th year in the club.
Club Announcements
Brown Bag Day – Bruce Hester (Colliers International) encouraged club members to sign up for next week's Brown Bag gatherings and highlighted a couple of the locations.
Golf for Kids – Rick Osen (Sutter Builders) encouraged Rotarians to commit $500 sponsorships for this important event coming up in May.
Youth Incentive Program – Eric Solis (Solis Financial Strategies) announced that the YIP committee will be looking for mentors to help those aspiring students.
Sweethearts Dinner – lovebirds Francy and Norm Marshall (Headwaters Construction), sporting outlandish seasonal apparel, inspired President Diane to perform a striptease outfit change, all to herald the February 9 Sweethearts Dinner, which has 10 spots open for a romantic meal at Mulvaney's.
Past President Gary Kerns (Sacramento Valley Insurance) introduced guest speaker Mike Pereira, a former NFL referee and now the rules expert on Fox game broadcasts. Mike lamented the increasingly hostile treatment directed at officials at all levels, and noted the related shortage of referees. He announced a new initiative, Officiate Sacramento, that he hopes will recruit more referees and soften the attitudes of coaches, parents and fans. Mike expressed empathy for the refs who blew a call that probably denied the New Orleans Saints a Super Bowl trip, and advocated for a booth review to prevent such egregious mistakes in pivotal moments.
President Diane made sure to thank:
. wine reception sponsor Dave McKie
. wine reception pianist Mark Luhdorff (Anpac Bio)
. greeters Gary Bazlen (Nicolaus Optical), Chris Ann Bachtel (Exchange Bank), and Justin Schroer (UC Davis)
. Pulse reporter Kevin Smith-Fagan (KVIE PBS)
. photographer John Swentowsky (Swentowsky Photography)
. Thought for the Day presenter Tim Mattheis (WMB Architects).
Next week is Brown Bag, and the February 26 meeting will feature golf expert Ken Morton.