President Diane Woodruff greeted us with Easter Bunny ears as she welcomed KVIE's Rob Stewart (star of "Rob on the Road") for a very inspirational presentation.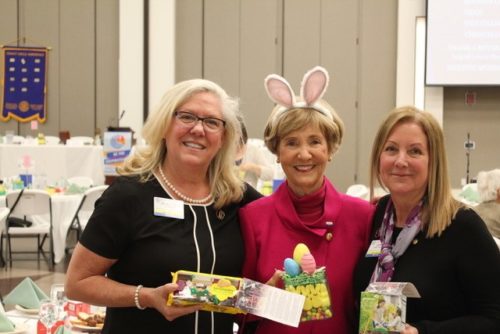 Meeting sponsor Joel Hockman (Pucci's Pharmacy) described the personal services offered at Pucci's Pharmacy. April Javist (Sacramento Public Library Foundation) described the history of the library system and the dramatic benefits that libraries have on our communities.
Brandon Montalvo (Morgan Stanley) introduced Joe Blanton (Capital Rivers Commercial Real Estate) as a new member. Joe was sponsored by Brandon and Bob Miller (First US Community Credit Union). Joe is a former Marine and a founder of Krush Burger.
Marlene von Friederichs Fitzwater (The Health Communication Research Institute) and Robyn Delong (Coldwell Banker) sponsored new member Julie Brown (California Clothing Recyclers). Julie's organization can change your used clothing, shoes, belts, handbags, and stuffed animals into funds for your organization.
John McIntyre (Mercy Foundation) was awarded his second Paul Harris pin for chairing the Rotary Youth Exchange program for 10 years!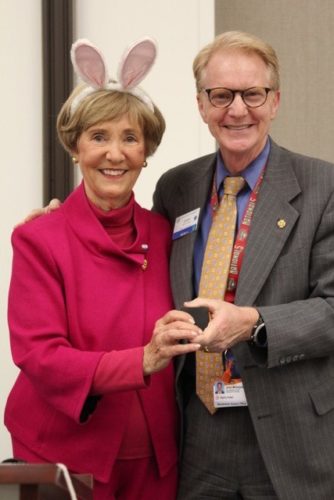 Meeting Announcements
Golf for Kids – Bob Miller reminded us to be ready to tee off for Golf for Kids on May 6th– spots remain available!
Armed Forces Day – Past President John Lemmon (Knox, Lemmon & Anapolsky) and Jackie Kirkwood (Goodwin Cole) announced Armed Forces Day on May 21st. Please invite family and friends who served in the military. This year we will also display any memorabilia so please look for pictures and other interesting items to display.
Speech Contest – Dave Brandenburger (Newmark Knight Frank) congratulated student contestant Aiden Garvie, who won the speech contest and moves on to compete at the District Finals on May 18th.
Compassion Committee – Ed Wright (Martensen Wright PC) informed us that Ed Grebitus is gravely ill and asked us to remember Ed and his family in our thoughts and prayers.
Let's Educate Someone:
Jay Lowden (YMCA) donated $200 as sadly announced that this is his last meeting. He is moving to take a position with the Yuba County College System. Jay will be missed! Other Rotarians also made donations: Laura Heintz (Stanford Youth Solutions) $150; Michelle Amaral (Dick James and Associates, Inc.) $250; Mark Luhdorff (ANPAC Bio) $250; Peter Dannenfelser (Architectural Arts) $1000; and Norma Farr (Fidelity National Title) $100.
Guest speaker Rob Stewart was introduced by Chair of the Day Jeanne Reaves (Jeanne Reaves Consulting). Rob provided heartfelt comments of how Rotary's guiding principles in the Four-Way Test inspired him to be a better person. Rob challenged us all "to reach out through service and make moments matter." Rob reminded us that Rotary should be a verb and that these actions are transformative – not just for others but also for ourselves. Rob's forthcoming show "Journey" will focus on individuals in our community that are using such guiding principles to make a positive difference. Rob seeks to provide a positive message that is missing from today's television programing and other media.
We were greeted today by Lynne Van Tilburg (Girl Scouts Heart of Central California) and tempted by delicious Girl Scout cookies, as well as Surender Singal and Nikki Wardlaw (College Track). Elfrena Foord (Foord, Van Bruggen, & Pajak) entertained us on the piano while Ed Wright Jr., Joel Hockman and Clayton Lee were pouring the wine. Pictures were taken by Mike Bullington.
Next week's meeting will feature the club's Young Professionals!