President Jim Leet (Attorney/ Boutin Jones Inc.) kicked off this meeting like an old pro!
Elfrena Foord (Foord, Van Bruggen, & Pajak) played the Titanic theme twice on her opening piano set only to Leet's chagrin – thinking that might be an omen……Greeters Ann Solomon and Amin Elmallah welcomed Rotarians.  Jackie Kirkwood (Goodwin Cole Company) handled the photographs in John Swentowsky's absence during the wine reception, which was hosted by Todd Andrews (Andrews Construction, Inc.), who incidentally came in full biking regalia, including in the bike!
Tom Bacon (BCRE – Bacon Commercial Real Estate) shared a touching text from his RYE mentee as he outlined the thought for the day centered on three topics: Belief, Love and Trust.
Elfrena had double duty today as she handled the sergeant-at- arms duties during John Woods' vacation.
Boutin Jones was the meeting sponsor of the day and donated the time to the Children's Receiving Home, which just celebrated their 75th Anniversary.  The original location was near the current Music Circus.  The gala included many alumni stories and resolution presentations.  CRH has temporary shelters, emergency care and comprehensive care for foster youth.
Marjorie Porter was sworn in as a new member today.  A Palo Alto native who attended Cal Poly is a manager for Hewlett Packard.  She focuses mainly on contract negotiations which include market benefits, compensation, and relocation.  Her territory covers 165 countries.  She is a horse lover and lives with her family in Rocklin.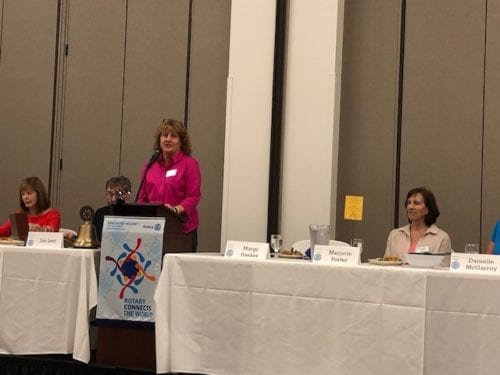 Heidi Hershenhouse recapped her service trip to Guatemala.  Sacramento Rotary donated $5,000 in the form of two grants.  64 Rotarians attended the week long trek, only 3 from California and the majority from Texas.  They refurbished schools focusing on construction, painting, and furniture.
Virginia Wade announced the next Loaves and Fishes day to be August 29.  Kathe Nathan (Merchants Bank of Commerce) gave some blood donation stats. We doubled our donations from previous years!  55 donors provided 178 pints.  Steve Huffman encouraged us to write a care gram to Tom Engel who is suffering from a pulmonary problem.  Todd Koolakian (Sacramento Children's Home)   promoted the Sac Century Challenge for business exposure.  Signage and sponsorships for $1,000-$15,000 are available.
Nancy Teichert (Writer) attended the boys and Girls Club gala and Comstock's snapped a few candids of her.  Also caught on film was Cheryl Marcell (CA State Railroad Museum Foundation) at the 150th Anniversary of the Trans-Continental Railroad.  Cheryl also contributed to Past President Walter Dahl (Dahl Law, Attorneys At Law) and Past President Wes Yee's (Yee Dental Care) respective Eddie Mulligan as they are on her board at the Railroad Museum Foundation.  Past President Beverly Brautigam (Brautigam Financial Services) donated, as she was a rotary exchange student in Guatemala as a youth.  She also reminded us of the Swim BBQ on August 18th.  Surender Singal donated in honor of Past President Diane Woodruff's presidency.
Cynthia Nichol gave a big thank you to Rotary. As a high school student she was sponsored by her local chapter to attend science camp.  Growing up in Ethiopia, Cynthia often saw International Rotary projects in small villages.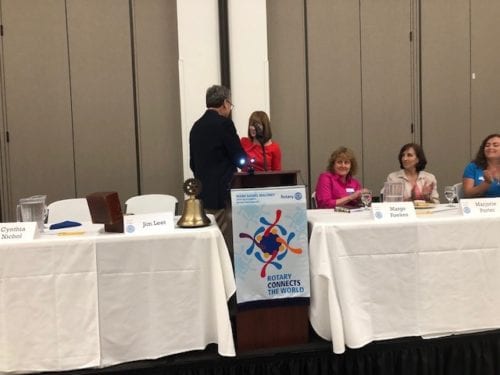 Her love of flying came from an early age. The remote part of Ethiopia, where she lived was only accessible by plane 6 months each year.
Cinthia oversees four airports, SMF, Mather, Executive and Franklin Field.  SMF has 175 daily flights to 40 nonstop destinations.  Some of these even include Merced, Palm Springs and Santa Barbara.  Southwest is still promising nonstop flights to Hawaii by the end of this year.  Passenger growth is outstripping forecasts.  Almost 12 million passengers either take off or land yearly in Sacramento.  The Uber trips along originating at the airports are over 3,000 per day.  Cargo trips all also on the rise.  Private pilot use (Executive has the most) is also surging in popularity, although this mimics the economy.  When we are in a recession, private pilots aren't as numerous.  Philippines is one of the most desired destinations out of Sacramento after Mexico and Canada.
Cynthia emphasized that a healthy economy means air service will remain strong.  We are at an all time high for passenger volume, but our facilities aren't keeping pace.  They are constraining our growth.  Planning for this growth is paramount.  Franklin Field and Executive Airport need smart capital investment.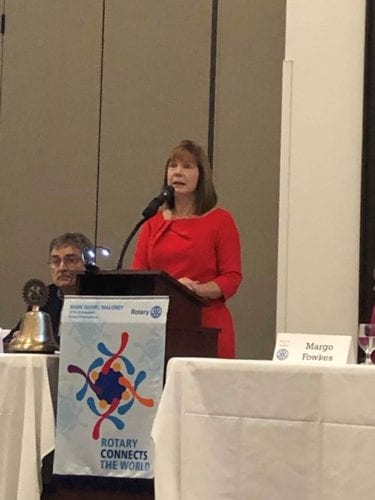 Cynthia took questions from the crowd that included gate prioritization, why restaurant service closed at 9pm, non-affiliated lounges will be starting up, what are the current contract status of carriers, will light rail ever reach the airport? Will we really ever get a hotel?  The cost to get on a plane in Sacramento is one of the nation's highest at $17 per passenger.  Although this number has decreased to $11 as we have increased our capacity.