President Jim Leet (Boutin Jones, Inc.) called our meeting to order by giving special thanks to Mike Bullington (DOJ Certified Firearms Safety Instructor) for greeting us with a few melodies on the piano and for capturing the day with photos, to our greeters, Ted White (Sacramento Delta Property Management), Lonnie Martin (Vistage International), and Mark Luhdorff (IMD Path). Todd Andrews (Andrews Construction, Inc.) & Megan Wygant (CLARA/ Claire Raley Studios for the Performing Arts) for the wine reception and John Goralka (Goralka Law Firm) for reporting this week's Pulse. Thank you, Lonnie Martin, again for sponsoring our meeting!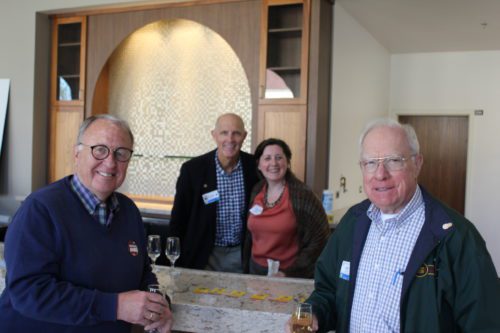 Get well wishes to Skip Lawrence who is in the hospital. We hope and pray for a speedy recovery!
Sarah Hodge (California State University, Sacramento) provided our Thought of the Day with a quote from The World According to Mr. Rogers – "The greatest deeds are not the flashiest, but simple acts of kindness that yield the best results yet go unnoticed".
Lonnie Martin of Vistage International sponsored the meeting. Vistage is the world's largest executive coaching organization for small and midsize businesses. For more than 60 years Vistage has helped CEOs, business owners and key executives solve their toughest challenges through a comprehensive approach to success. At the heart of their proven formula is confidential peer advisory groups and executive one-on-one coaching sessions. Vistage helps create better leaders by guiding them to better decisions in order to get better results.
Rotary Youth Exchange Guests:
Nine (9) members of the Rotary Youth Exchange from 8 different countries visited, those guests are: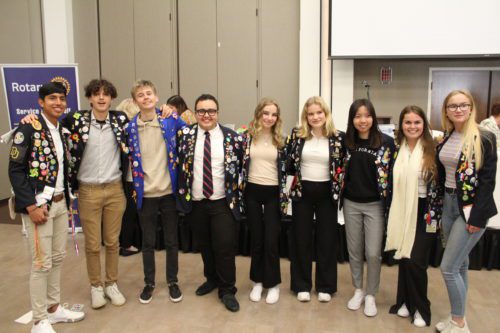 | | | | | | |
| --- | --- | --- | --- | --- | --- |
| First Name/ Nickname | Last Name | | Gender | Country | Host Rotary Club |
| Amanda | Poulsen | | F | Denmark | Orangevale |
| Lovisa | Hansson | | F | Sweden | Fair Oaks |
| Balthazar | Laurence | | M | France | Sacramento |
| Joao | Dos Anjos | | M | Brazil | El Dorado Hills |
| Mario | Delsalle Granados | | M | Belgium | Foothill Highlands |
| Stephany | Almeida | | F | Brazil | Oroville |
| Sophia | Chuang | | F | Taiwan | Rocklin |
| Nicolas | Lizondo Parada | | M | Bolivia | South Placer Sunrise |
| Emely | Mischeck | | F | Germany | Elk Grove |
 Rotary Youth Exchange Short-Term Exchange Program (STEP)
We wanted you to be aware of a relatively new Summer Exchange program: Your student aged 15-17 has the opportunity to spend time in another country on a one-to-one exchange. An example: Maria is 15 and wants to go to Germany this summer. She applies to STEP and is connected with a German family whose daughter Claudia is a 15-17-year-old girl and also applied to STEP. The families agree to reciprocal homestays. Maria stays 3-6 weeks together with Claudia's family in Germany, then they spend another 3-6 weeks visiting California staying with Maria's family. This is primarily a travel exchange, but not as immersive as the full RYE exchange, which lasts for a full academic year.
Key things to know:
Works best with Northern Hemisphere countries – so that all participants are on summer break.
Student must have a valid passport.
Student and family must still go through approval process
All expenses paid by families
Final decisions on participant(s) made May 9, 2020 – so, time's a-tickin'!!
ANNOUNCEMENTS
The Golf4Kids Tournament is on May 4th, we need prizes for the raffle and awards. 4 sponsorships remain. Please contact Brandon. Vendor registration remains open until June 7th.
Mystery Trip, May 28th – look for a separate email from Len Simpson (2020 Financial Advisors of Sacramento).
Networking Night, March 25th.
Meal Packing Event – April 18th – Rise Against Hunger
Let's Go on A Journey!
Our own Tina Reynolds (Uptown Studios, Inc.) was recognized as the LGBTQ Business Owner of the Year in Comstock's Magazine!
Kathe Nathan (Merchants Bank of Commerce) announced that her grandson turned 2.
Jim Quinney (Community Engagement Manager/Rise Against Hunger), Our speaker, is an advocate and volunteer for Rise Against Hunger. Their goals to end world hunger by 2030. An 821 Million people around the world don't receive enough nutrition to lead a healthy life. Rise Against Hunger has more than 430,000 volunteers around the globe putting their hands on hunger.
Our key program is providing school lunches for those in need around the world. The school lunch is often the only meal of the day for these kids. A $75 donation can feed one (1) child for a school year.
Join us on April 18th for a meal packing event as part of the School Feeding Program. Look for an upcoming invitation.
We look forward to seeing you at our next meeting, March 17th. Our guest speaker will be Roger Andriesse from Canine Companions.