Rotary Meeting: April 13, 2021
PRESIDENT KEVIN SMITH-FAGAN (Executive Director of Fairytale Town) gaveled the meeting to order at 12:00 pm, noting we'll introduce a new member and will enjoy a great speaker today! ALLISON CAGLEY (Sergeant in Arms) (Executive Director of Friends of Sacramento Arts) recognized Pulse Reporter JOHN MCINTYRE ((Chief Philanthropy Officer at Mercy Foundation and Author Extraordinaire) and invited guests to unmute and chime in with introductions. Guests maintained their anonymity, leaving their mics muted.
Thought for the Day
ANN SOLOMON (Regional Director for Western North America at University of Auckland) presented our Thought for the Day, and her topic was in light of the recently escalated anti-Asian and Pacific Islander hate crimes taking place in our country. ANN's husband was born in Manila, Philippines. He was treated differently throughout his life, and even she has noticed the discrimination on many firsthand accounts. She noted that when they were born, she and he would have been legally forbidden to marry. She then offered a poignant quote from Dear America: Notes of an Undocumented Citizen, by Pulitzer Prize-winning journalist Jose Antonio Vargas. ANN closed by noting, "We have a long way to go, until we treat everyone as equal citizens."
Induction of New Member
After being led in the Pledge of Allegiance by our soon-to-be newest member, JAMES RHODES-DREYER (CEO of the Boy Scouts of America's Golden Empire Council), JAMES was formally 'read in' to the Club and welcomed enthusiastically. He is sponsored by PAST PRESIDENT WALTER DAHL (Partner at Dahl Law, Attorneys At Law) and PAST PRESIDENTS BOB COLE and DAN COLE (Cole Partners Development Co.). He was introduced in song by BOB and his son DAN. "Valderi, valdera…"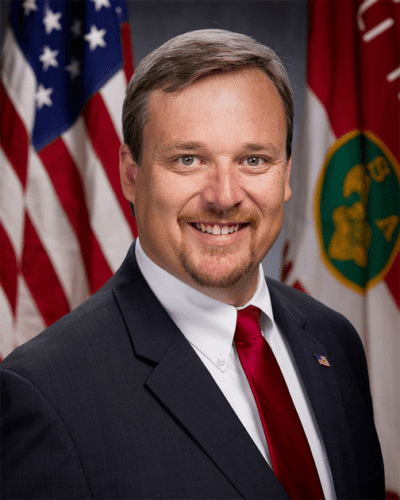 JAMES first launched his career into Scouting back in 2005. He is an eagle scout and an honored member in the Order of the Arrow. In his free time, he enjoys swimming, rafting, reading, and of course… outdoor activities! He is blessed with a wife and 2 sons, 8-year-old, Lucas, and 5-year-old, Eric. Welcome aboard, JAMES! We are so excited to get to know you!
PRESIDENT KEVIN stepped in to acknowledge the honor upon JAMES for being sponsored by BOB COLE, who is celebrating his 70th year (yes – you heard that right!) in our Club and therefore our most senior member in the whole Club! Congratulations to BOB for his fantastic, long-term legacy of service!
Club Announcements
Loaves & Fishes – JOHN SWENTOWSKY (Owner of Swentowsky Photography) made all aware that the Club will be serving lunch at Loaves & Fishes on Thursday, April 29th – he currently needs three more volunteers for the morning shift and six more for the lunch shift. With COVID protocols abound for everyone's safety, it's a great way to offer service amid the pandemic.
Park Cleanup – BOBBY REED (CEO of Capitol Tech Solutions) informed us that, in honor of Earth Day (4/22), Club members will again be cleaning up along the American River Parkway (at Discovery Park) this coming Saturday, 9-11am. Please sign up! Bonus points if you can bring rakes, wheelbarrows, work gloves, or 'trash pickers,' if you've got 'em!
Mother's Day/Young Professionals Fundraiser – BOBBY then segued to note that the Young Professionals (YP) are planning a tour of a local, urban Flower Farm in West Sacramento. Rotary 'Unplugged' Rockers will help bring a musical aesthetic to the visual beauty. Tickets are $75/person (kids are free!). We are looking forward to your anticipated support on Saturday, May 8 from 10am to noon.
Then – going for the informational trifecta – BOBBY also noted that, for another $75, flowers to your mom can be delivered right to her door on Sunday morning! Get in touch with him or another YP pronto to make this happen for Mother's Day!
Golf 4 Kids – SARAH HODGE (Director of Development at California State University, Sacramento) reminded everyone that this longstanding tradition will tee off once again at William Land Park on Friday, May 21st – the longest-running continuously run fundraising in all of Rotary. All benefits support multiple local schools' specialized programs for orthopedically challenged students. Reach out to SARAH or CALLEE SETZER (Sales at Setzer Forest Products) for signups to play, to help wrangle one of our unique raffle items, or even just to join for a finger lickin' good Nash & Proper meal.
Good News
KÄTHE NATHAN (Vice President Relationship Manager at Merchants Bank of Sacramento) shared the arrival of her grandson, at the mere age of 17 days, with an adorable zoom cameo.
ANN SOLOMON shared her joy of having dog "Laddie Boy" for three months. She also noted she met her husband 21 years ago in Peace Park on Earth Day.
In honor of our newest member, JAMES RHODES-DREYER, WALTER DAHL made a $100 gift toward JAMES' Eddie Mulligan. He also honored BOB COLE, who's been a mentor to WALTER since he was born.
Speaker Introduction
PRESIDENT KEVIN SMITH-FAGAN today assumed additional duties and introduced our speaker today, Councilmember MAI VANG. MAI the daughter of Hmong refugees from Laos, a proud Sacramento native, and the eldest of 16 children. Before her election to represent Sacramento's Eighth City Council District, Vang served as the Executive Director of the Buck Scholars Association, an organization that offers mentors and scholarships to intelligent high school students who lack the resources needed to achieve their educational goals. She also teaches in the Department of Ethnic Studies at California State University, Sacramento and in the Department of Asian American Studies at the University of California, Davis.
Guest Speaker
Councilperson MAI VANG started off by acknowledging the good work of Rotary and feeling humbled to be sharing her time with our Club. She shared story with us, going back to the beginning – her parents' families escaped as refugees from Laos during the mass Hmong genocide that occurred in the time of the Vietnam War. Her father's family settled in Oak Park and her mother in Meadowview. She shared an early memory of being mocked in elementary school for using food stamps, internalizing that sense of poverty as she continued to grow up in South Sacramento. She graduated from Sacramento High School and was fortunate enough to have had a caring teacher who helped her with college applications, leading her to become a Frank H. Buck Scholar with a full ride scholarship to USF and UCLA.
It wasn't until college that she learned about her Hmong heritage, which led to her activism on the campus of USF in support of the Hmong and other Asian refugee communities. She became increasingly interested in public health policy and Asian-American studies, which she later studied at UCLA.
Ironically enough, she left Sacramento because of poverty, yet poverty is also what drew her back here to work on health policy, educational outcomes, voting rights, etc, all of which disproportionately impact poor communities and communities of color. She started a nonprofit called Hmong Innovating Politics (HIP), which works on registering Hmong people to vote. After serving on Sacramento City Unified School Board, she chose to run for City Council and was elected to represent Sacramento's District 8, a racially diverse community that is disproportionately poverty-stricken. Her aim is to ensure that the community comes out of this stronger and healthier. She notes it will take collective efforts – neighborhoods, businesses, philanthropies, social organizations, and the government – working together to make a difference; nevertheless, she's laser focused on catalyzing and sustaining this.
CLICK HERE to view MAI VANG's entire speech.
In addressing homelessness, MAI stated "our unhoused neighbors are our neighbors." She seeks to implement both short-term and long-term strategies –getting the unhoused under a roof comes first, but then also to provide the critical wraparound services needed for successful rehabilitation, mental health support, etc. so folks can remain sheltered. She remains hopeful there can be broad community support to forge positive outcomes.
In response to a question regarding voting rights being attacked via legislation across the country, led her to emphasize that her focus is on reducing barriers, especially those related to community engagement – she believes that voting is already seen as a big enough barrier on its own to many underserved communities.
PRESIDENT KEVIN asked a final question about where to get great food in her district. MAI recommends heading to Mack Road for good restaurants or stopping at one of the surplus of small ethnic grocery shops on Florin Road. Indeed, Ms. Vang had a thoughtful response to every inquiry and was a sterling advocate for everything in District 8. She kindly shared her personal email; in the event anyone wishes to follow up with her mai@maivang.org and she thanked the Club for welcoming her. Thank you for being such an inspiration to the entire Sacramento community, Councilmember MAI!
CLICK HERE to view MAI VANG's full Q&A.
Next Meeting
ALLISON CAGLEY announced that next week's speaker will be INDIGO MOOR, poet laureate emeritus of Sacramento, again in the Zoomisphere. We hope to see everyone back next Tuesday at noon!
CLICK HERE to view INDIGO MOOR'S website