President Jim Leet (Boutin-Jones) welcomed us all to what was to be one of the most inspiring Zoom meetings as we heard from the young people our club aided in pursuing their education. Dick Noonan (California State Railroad Museum) started us off with the Thought of the Day on National Nurses Day on the anniversary of the birth of Florence Nightingale, a pioneer of modern nursing. He noted "She would have been a great Rotarian."
Meeting sponsor John Goralka (Goralka Law) donated his time to Richard Lewis, President and CEO of the nonprofit Broadway Sacramento, which had to cancel its summer season because of the pandemic. Music circus is dark for the first time since 1951 and needs help to survive this hiatus. Click on this link to see Richard's recent letter to supporters and friends: https://www.broadwaysacramento.com/letter-richard-lewis/
Please plan to see the next show, which will be "Anastasia" on Dec. 29 at the Safe Credit Union Performing Arts Center. Richard also provided a virtual musical performance, which can be seen (and now heard) at the following link: https://www.youtube.com/watch?v=vI0m52tHgAI
Following Zoom fellowship, Leet thanked Past President Frank Poelman (Poelman Company Ltd) for creating our club's Youth Incentive Program (YIP) during his term in 1997. Rotary's YIP matches at risk seventh graders with mentors for five (5) years to help kids establish and meet academic, athletic, social and self-esteem goals.  Poelman raised $300,000 for scholarships for students and members mentor them through their graduation.
Eric Solis (Wells Fargo) now runs YIP which has helped 76 students overcome obstacles to graduate from high school, 9 graduated from college and another 9 are attending college. Today, there are 15 high school students being mentored. Students with limited means can receive a $10,000 scholarship to attend college or technical schools.
Solis encouraged members to consider volunteering to mentor a student or contribute more to the $186,000 in scholarships given out so far. Then, those who have benefitted from the program told their stories.
Mentor Tom Bacon (BCRE – Bacon Commercial Real Estate) said middle school student Kyre Roberson joked at their first meeting that he wanted to be a pro-wrestler. Instead, Bacon said, he became a pro-student. They have been together for 4 years. "He got a lot out of it, but I got a lot more," Bacon said.
Roberson, now in high school, said he learned about golf and the real estate business from Bacon. "I've become a better person and a better leader," he said.
Julie Adams introduced Maria Soto, who is in her second year studying biochemistry to become a surgeon.
Adams is mentoring Victor Garibay, who said Rotary gave him a better tomorrow through his education. She said being a mentor had been a good experience. "It's a long journey but it's very rewarding," she said.
April Javist (Sacramento Library Foundation) has been a mentor to Gizzel Yanez for 9 years and considers her a member of her family. Yanez, a junior at San Francisco State University, said she had considered dropping out of high school when her father became seriously ill but Javist helped her manage the crisis. She is studying world literature and Spanish and will return next year to Spain for a master's program.
Mentor Barbara Davis-Lyman met Jesus Barraza Garcia, who told her he wanted to be a chef. She pointed out that he had gotten an A+ in government. Now, he is studying political science at the University of California San Diego. "Jesus is here to make the world better just like Rotary," said Davis-Lyman.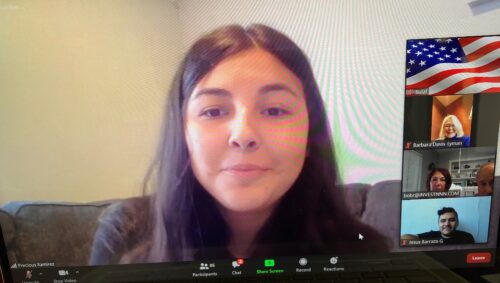 Bob Rosenberg (Inve$tnet Inc.) and his wife Shirley have been mentoring students for 13 years. She said mentee Precious Ramirez is like a daughter to them. Ramirez is getting her master's degree in social work at Sacramento State University. She said, "Education and learning can really change your life."
Please tune in next week as our speaker is Dr. David Randal Hessl, Ph.D. Dr. Hessl is currently the director of the Translational Psychophysiology and Assessment Laboratory (T-PAL) with the U.C. Davis Mind Institute.
The Mind Institute provides support and assistance to help individuals and families affected by Neurodevelopmental challenges. More information about the Mind Institute can be found at the following link: https://health.ucdavis.edu/mindinstitute/