President Jim Leet (Boutin Jones) called the meeting to order.  President Jim utilized executive privilege to call this rare post Memorial Day meeting for an additional opportunity to meet during the Order to Remain at Home.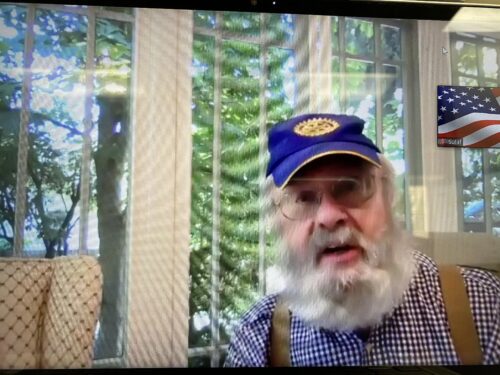 After leading us all through the Pledge of Allegiance, Jim introduced Past President and Past District Governor, Fred Teichert (Teichert Construction), who provided our thought for the day.  Fred sought to honor our fallen heroes and to express our gratitude for those still serving, including the scientists, first responders, medical professionals and all those affected by Covid-19.  Past President Fred looked to the Rockefeller Foundation for the following quote in remembrance of Memorial Day:
"Every year on Memorial Day, we honor and remember America's fallen heroes – the military men and women who made the ultimate sacrifice while serving our country in uniform. We rededicate ourselves to the common democracy and community for which they gave their lives, so that this nation and its people might live. And we are grateful to those still serving our country overseas to defend our freedoms, often in harm's way.
This weekend, let us also remember and mourn those heroes who have lost their lives in the fight against Covid-19: the thousands of doctors, nurses, scientists, first responders, public health professionals, and community health workers, as well as National Guard members and military medical teams, who answered the call of duty and rushed to the frontlines of this battle, knowingly risking their lives in the hopes of saving others. Many succeeded. Too many paid the ultimate price.
As we pay tribute to fallen heroes past and present, let us also rededicate ourselves to upholding the passion and purpose they so bravely fought for and died for, so that others might live. Let us keep faith with their service, and sacrifice, by renewing our own commitment to serving each other and all of humanity."
President Jim thanked our meeting sponsor and Past President Diane Woodruff .  Diane donated her time to Volunteers of America.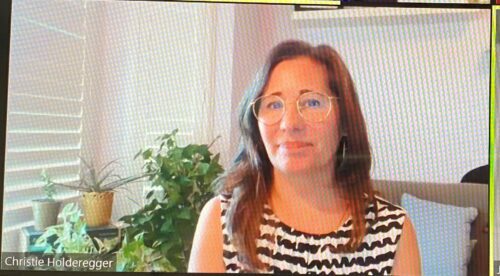 Volunteers of America – Greater Sacramento is a 501(c)3 non-profit that provides a wide array of essential services including:
Emergency shelters
Supportive housing to bridge the gap from homelessness to permanent housing
Affordable housing communities for families, seniors, veterans, and those with disabilities
Employment and empowerment services
Addiction recovery for parenting women
Veterans' services
Christie Holderegger, Vice President. and Chief Development Officer of Volunteers of America provided a description of these services and narrated a video detailing a compelling story of one family helped by the many services provided by the Volunteers of America professionals.  The video can be viewed at the following link: Kimberly, Juanita and Joey's Journey from the River to Housing.  The increased needs in our community from Covid-19 has both created greater use of the services of Volunteers of America and made more difficult the task of raising funds to provide these services.  Christie invited us all to join Leo McFarland as his personal guest at VOA's First Virtual Shelter From the Storm event on June 4th from 8:00 – 8:30 a.m. Register here to be Leo's guest on June 4th.  If you can't join Leo on June 4th, but you would like to help VOA close their $900,000 gap by June 30th please use this link: https://www.voa-ncnn.org/covid19
President Jim wished happy birthday to our Rotarian members born in March, April and May. Jerry Haley announced he recently turned 87 and had completed 50 years as a Rotarian.  Jerry contributed $1,000 for his Eddie Mulligan in honor of those milestones. Congratulations and thank you Jerry!
President Jim then introduced Lyndsay Burch, Associate Artistic Director for The B Street Theatre.  Ms. Burch explained how the Theatre had less that seven (7) days to go from establishing new procedures to protect patrons to learning the Theatre was closed by Executive Order. In the few months that followed, B Street established a vibrant and diverse menu of programs for their patrons.
The overall goals for these programs are:
Connection and engagement through audience interaction,
Audience experience to persons outside the Theatre's geographic limitations,
Providing a medium for artistic expression, and
Provide a future, permanent revenue stream from virtual programming.
Lyndsay provided a video of some very entertaining 60 second Zoom plays including a musical thanking Sutter Health.  That video can be viewed on the following link: https://www.youtube.com/watch?v=uEo8liMiKXc
Lyndsay then reminded us that virtually every American Theatre is closed. B Street cancelled shows and laid of 40 staff members and seeks to overcome a budget shortfall.  A donation can be made at the following link: https://bstreettheatre.org/support-us/donate-now/
Lyndsay provided a fun reminder of a recent performance at B Street.  That performance can be viewed at the following link: https://www.facebook.com/bstreettheatre/videos/534519463898283/
Tune in next week when our Speaker will be Jennifer West, from Sac Film Office.  The City of Sacramento's film office provides the following free services:
Assistance navigating the local government agencies and policies
Comprehensive film directory
Location information, suggestions, and photographs
Up-to-date contact information for permits and budgeting details
Information on accommodations for crew stays
Referrals to technical personnel, equipment availability, and other services
Details on climate, transportation, and area events
Liaison between production companies and local communities
Arrange familiarization trips for production personnel and location scouts
Jennifer will be a timely and interesting speaker that you will not want to miss.