President Jim called the meeting to order from his private Zoom room and welcomed the 80+ Rotarians who were on the call, each in their respective Brady Bunch squares with Coronavirus coifs on full display. Our Chair of the Day was Kathy Herrfeldt (Owner/Home Care Assistance).
Forest Junod (Retired, MD) shared his thought for the day by reading Winston Churchill's poem, The Influenza, which was written when he was 15 years old. Though the poem included 12 verses, Forest gave us just a taste of the lofty linguistics including the following:
.
Oh how shall I its deeds recount
Or measure the untold amount
Of ills that it has done?
From China's bright celestial land
E'en to Arabia's thirsty sand
It journeyed with the sun.
"Plus ça change, plus c'est la même chose" ("The more things change, the more they stay the same.")
A couple on the streets of London wear masks during the Spanish Flu outbreak – look familiar?
MEETING SPONSOR
Steve Hymas (Downey Brand LLP) donated his time to Erin Puckett, Business Development Director of the American Heart Association (AHA). As Erin explained, the mission of AHA is to "be a relentless force for a world of longer, healthier lives." Specifically, the AHA is working to bring the healthy life expectancy from 66 to 68 years by 2030, begging the obvious question – will we all be around to see it? Heart disease is the number one killer of men, women and children – and it is 80% preventable through diet and exercise. Erin encouraged Rotarians to go to www.heart.org and get educated about what you can do to save lives.
Erin has invited us to this exclusive virtual gala:
Sacramento Heart & Stroke Ball, Thursday, June 11th from 5:30-6:30pm
Attached is your invite with all the details. Here is what you can expect during our time together:
High energy
Powerful story from our mission family
Exclusive opportunity to hear about the impact of your dollars and how we are investing in cutting-edge research and treatments
Live auction, paddle raise, and entertainment!
Where: Via ZOOM, where you can attend from the comfort of your home
How: Register online here (this is the same link in your attached invite) or via email here. Please register to secure your spot by Friday, June 5th!
Please send this email and attached invite to your guests or send me their first name, last name, email address and if they require closed captioning.
Erin also invited us all to show that we have a heart and attend the 2020 Virtual Heart Walk ending June 30th. You can register for the Walk by clicking the following link: https://www2.heart.org/site/TR/?fr_id=4853&pg=entry
Kathy Herrfeldt (Owner/Home Care Assistance) introduced our keynote speaker, councilmember Jeff Harris. Harris was elected in November 2014 to represent the 3rd City Council District in the City of Sacramento. The third district encompasses the East Sacramento, River Park, Sacramento State, the Downtown Railyards, the River District, South Natomas, Gardenland and Northgate neighborhoods. Since taking office, Councilmember Harris has been a strong advocate for parks and neighborhoods, the homeless and small business. A beekeeper, gardener and Cal Aggie, Harris has a deep connection with the agricultural heritage and farmers of the Sacramento Valley. He lives in the Riverpark neighborhood with his daughter Lilah.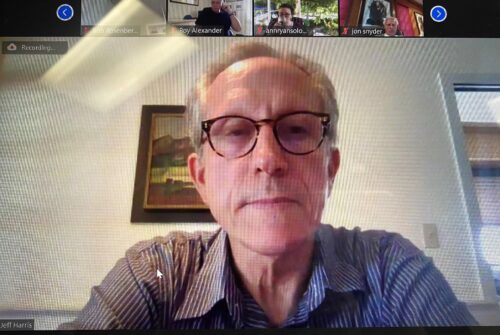 The councilmember started his remarks by asking for insight and direction to help keep the city moving through these difficult times. He hearkened back to his experience of civil unrest during the 60's and the Watts riots in Los Angeles, making the point that we have been here before. Quoting Will Smith, he said "racism hasn't changed, it's just filmed more."
Harris shared his personal opinion that we are currently experiencing a dearth of leadership, with the executive branch pouring fuel onto the fire and creating extreme divisiveness. He believes that this animosity and anemic response to the pandemic has directly impacted government at the municipal level. He applauded the state of California's efforts to test, track and trace the disease, despite the lack of leadership from the federal level.
The murder of George Floyd by a Minneapolis police officer and the pained reaction around the country and in our community, is forcing us to reexamine what kind of city we really want to be. "There are hard times coming ahead," said Harris, "and the only reason we have a balanced budget this year is the surplus from Measure U. Next year will be a different story."
According the Harris, the protestors in our community are mostly young, unemployed and restless from sheltering in place. In the aftermath of the killing of Stephon Clark, he stated that we have a more effective, compassionate police force, and that each member has been given 40 hours of implicit bias training. Still, we had 130 businesses destroyed through the violence downtown. As is typical of this community, hundreds of volunteers have shown up to clean up the mess and start our recovery. Harris believes that we will rise up and pull this community back together. He also noted that the coronavirus is oblivious to the situation, but only half of the protesters were wearing masks. Harris reiterated that the 8 p.m. curfew is in place indefinitely and 500 national guard troops are at the ready. This is a "management tool" to separate the peaceful protesters from those who would do harm.
When asked by Herrfeldt what Rotarians can do to be of service during these times, Harris said that we should make our will known to the city council about the best way to distribute the $89 million granted to our community through the CARES Act to "help the most people."
NEW MEMBER
Brandon Montalvo (Morgan Stanley) introduced our newest member and the first ever to be inducted in a Zoom ceremony – Heather Story (Financial Advisor/Edward Jones Investments.) Heather is a driven small business advocate who has started 11 business during her career. According to Montalvo, her drive and motivation to help others has been on full display as she has jumped in to help with Golf 4 Kids. Heather became a Rotarian at the age of 25 and has been a member of four different Rotary clubs and a Paul Harris fellow. Thankfully for our club, Heather and her 8-year old daughter moved to Sacramento to be closer to her family, and our club is the better for it.
President Jim welcomed Heather to our club and brought us full circle as to why we all became Rotarians. Jim reminded us in closing the meeting that as Rotarians "we unite, we don't divide."
THANKS TO MEMBERS WHO SERVED AT THIS MEETING
Since we are all socially distanced indefinitely, there was no wine sponsor, no greeter and no music that we are aware of, although it is certain that some of our members had at least one glass of wine during the meeting, greeted one another virtually and enjoyed musical accompaniment of their own choosing. We are a resilient bunch. Our sergeant-at-arms and resident photographer were on hiatus, but Shirlee Tully (Capital Public Radio) was on hand to capture it all as our Pulse reporter of the day.
Tune in at the same time, same place next week. We will have Mike Testa (Visit Sacramento, President and CEO) providing an update on the development in Sacramento. Visit Sacramento is the public-facing name of the Sacramento Convention & Visitors Bureau, a destination marketing organization. Visit Sacramento's core business is selling and marketing Sacramento as a destination for meetings & conventions, travel trade and leisure travelers to generate economic impact for the City and County of Sacramento. Visit Sacramento is actually the parent brand for a family of six brands. For fun virtual events in our city, check out Visit Sacramento's page: https://www.visitsacramento.com/things-to-do/