"Celebrating a high level of mediocrity." Demotion chairs Dave Higdon (California Moving Systems) and Past President Walter Dahl (Dahl Law, Attorneys At Law) turned the farewell meeting for President John Lemmon (Knox, Lemmon & Anapolsky LLP) into a semi-roast!
Many congratulations were in order for President John. Special guest District Governor Sandi Sava gave congratulations for the district's award of "Best Large Club" to RCOS among 41 contenders. Mik Miklaus (Integrity Mortgage) wondered "Why me?" when picked by John to head the Thought for the Day committee. Bob Miller (First US Community Credit Union) was inspired by the outgoing president on the art of laying blame. Jeff Stone (John O Bronson Co/HUB Int'l) hailed John for showing up to almost all the board meetings. Past President Dahl's slide show reviewed the year with many versions of John's photogenic head tilt and body slant, to lots of laughs. John was presented with "the best pin in Rotary," The Past President's Pin. The celebration continued with flowers to wife Debbie Lemmon, a tongue-in-cheek letter from John's law partner, and a makeshift commemorative plaque.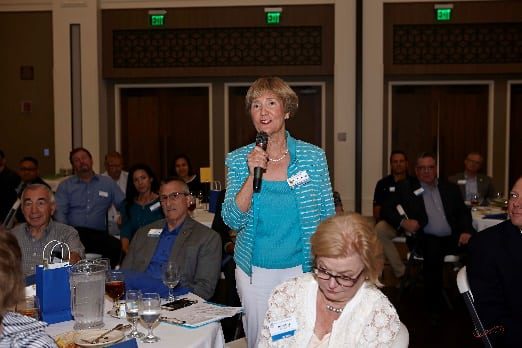 Generosity flowed, as everyone wanted to show gratitude to John. President Elect Diane Woodruff, Past President Skip Lawrence, Past President Tim Pinkney, Past President Rob Scherer (Dale Carnegie Training), Jeanne Reaves (Jeanne Reaves Consulting), Past President Dan McVeigh (Downey Brand LLP), Past President Wes Yee (Yee Dental Care), and Kathy Herrfeldt (Home Care Assistance) all contributed toward John's Eddie Mulligan. Art and Kiefie Breuer celebrated 63 years of marriage with a donation to their EM.
Getting the last word, President John profusely thanked committees and their chairs, and the boards of the club and the foundation. He emphasized the lifeblood of our club: our weekly meetings. His gratitude flowed to staffers Sulaf and Barbara, the weekly setup team of Art and Kiefie, Past President Skip Lawrence and Ed Wright (Martensen Wright PC) for the wine committee, demotion chairs Dave and Past President Walter, and lastly to his wife Debbie.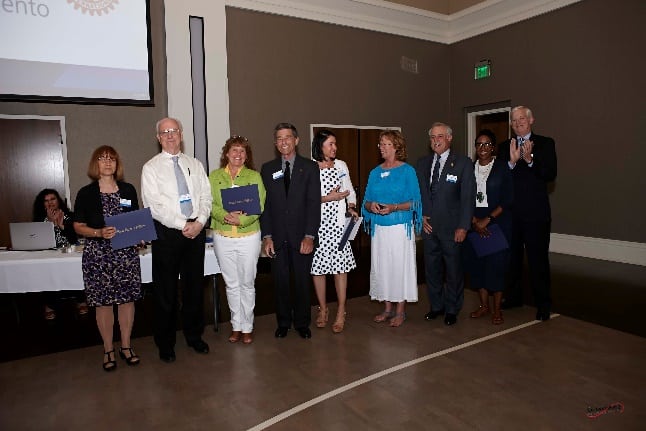 John awarded Paul Harris recognition for year-long meeting tasks to Käthe Nathan and Ted White, Margo Fowkes (OnTarget Consulting), Jeff Stone, Callee Setzer (Setzer Forest Products), Past President Susan Sheridan, Mik Miklaus, and club manager LaToya Wong.
While sending off President John, the club also welcomed new member Norma Farr (Fidelity National Title), sponsored by Julie Sherry (Watson Companies, Inc.) and Becki Roberts (Central Valley Community Bank).
Announcements included:
John Swentowsky (Swentowsky Photography) announced the club softball team has won its first two games!
Rick Osen (Sutter Builders, Inc.) encouraged signups for the June 26 Son's Day, which will feature a lively Taekwondo demonstration.
Elfrena Foord (Foord, Van Bruggen, & Pajak) is handling the installation of incoming President Elect Diane Woodruff on July 10 – a meeting sure to be great fun.
Past President Skip Lawrence provided the wine for our welcome reception, while Elfrena Foord played the piano for our background music. Greeters were Jamie Furlong (Legacy Investment Real Estate) and Käthe Nathan (The Merchants National Bank). Mik Miklaus (Integrity Mortgage) wittily delivered our thought for the day.