President Diane Woodruff convened the March 12 edition of the best Rotary club in sight.
Meeting sponsor Past President Dan McVeigh (Downey Brand) donated his time to the Exodus Project. Program advocate Rabbi Seth Castleman described the Exodus Project and outlined how the program helps female prisoners leaving jail to get settled and start a new life with spiritual direction, mentoring and more. Mentors are needed, so please consider it.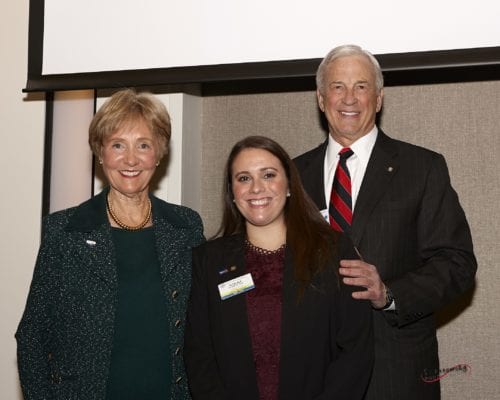 Nikki Wardlaw (College Track) became the newest member of the club! She was introduced by Past President Dan Cole (CPG West), who co-sponsored Nikki into the club with Jamie Furlong (Legacy Investment Real Estate). One of Nikki's passions is USC athletics, and while the club welcomed her warmly, she was served notice to expect a chilly reception on the USC front from our Cal and Stanford contingents. (She's not completely alone; Bob Miller (First US Community Credit Union) was quietly pumping a Trojan fist from his table.)
Past President Ken Noack (Newmark Cornish & Carey) introduced the club's newest Sacramento Rotary Fellow, Kevin Smith-Fagan (PBS KVIE), who was surprised by the arrival of his wife Nancy and sons, along with a cast of dear friends on hand for the presentation.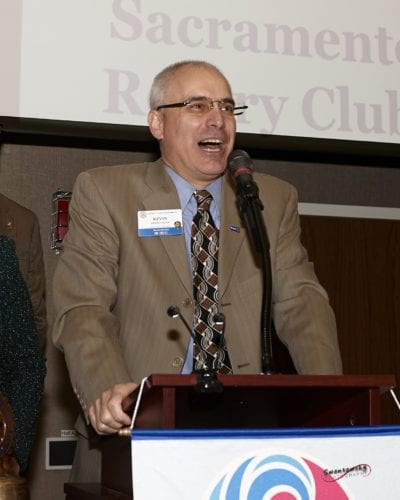 Club Announcements
. Dive Bar Bus Trip on March 22 – Kevin Smith-Fagan urged club members to join him in playing hooky on a Friday afternoon and experience "some of Sacramento's classiest people in some of the least classy places imaginable;" it's $149 and all proceeds benefit a job training program at the Salvation Army
. Ski Trip on March 28 – Dave Brandenburger outlined the great day that's planned and encouraged all to sign up and enjoy an amazing day on the slopes
. Mystery Trip on April 6 – Past President Wes Yee remained coy on the surprise destination but guaranteed a great time with great company and excellent food and drink
. Meeting Sponsors Needed! – Judy Kjelstrom and Virginia Wade are looking for some $300 meeting sponsors for open dates in the coming months
. Golf 4 Kids on May 9 – Bob Miller talked up the need for participation from all corners of the club and saluted his co-conspirator Callee Setzer (Setzer Forest Products), who is organizing event volunteers.
Let's Educate Someone!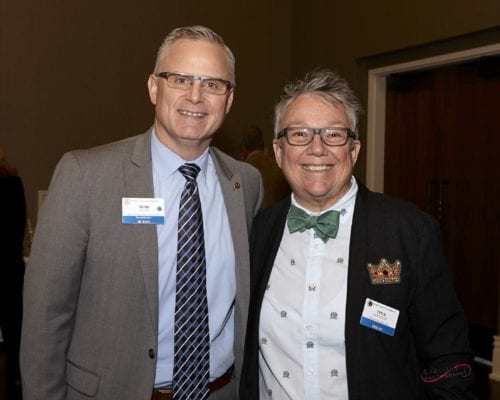 Tina Reynolds (Uptown Studios) donated $100 toward her Eddie Mulligan in recognition of a nice pic in Sac Mag
. Käthe Nathan (Merchants Bank of Sacramento) donated $100 toward her EM in honor of her grandson's first birthday
. Judy Kjelstrom celebrated her recent interview on a podcast about higher education with a $250 contribution split between her Eddie and her Paul Harris
. PEN Kevin Smith-Fagan, upon receiving an assurance of matriculation from his son Brendan by his side, celebrated Brendan's coming graduation from UC Santa Cruz with a $250 contribution
. Paul Bystrowski (Hub International) donated $250 toward his EM in honor of Nikki Wardlaw's induction into the club.
Chair of the Day Nancy Teichert introduced guest speaker Ginger Rutland, an author and playwright whose new drama "When We Were Colored" premieres on March 20 at Sacramento Theatre Company. Ms. Rutland adapted the play from her mother Eva's incisive memoir, "When We Were Colored: A Mother's Story." The play, like the book, tells the story of a middle-class black woman born and raised in the segregated south before World War II who moves West to raise her children in "integrated" California after the war. Eva passed away in 2012, two months after turning 95. Ginger wowed the crowd with an inspiring narrative of her family's story, accompanied by touching family photos.
Along the way, President Diane acknowledged wine reception sponsor Jerry Haley; wine reception pianist Mark Luhdorff (ANPAC Bio); greeters Strati Vourakis (Calm Computing), Dave Brandenburger (Newmark Knight Frank) and Tina Reynolds (Uptown Studios); Pulse reporter Kerry Wood (Sacramento Region Community Foundation); meeting photog John Swentowsky (Swentowsky Photography). Danielle McGarrity (Children's Receiving Home of Sacramento) delivered the Thought for the Day, and the closing Smile for the Day was presented by sergeant-at-arms Robyn DeLong (Coldwell Realtors).
Next week's meeting will feature celebrated chef Patrick Mulvaney of Mulvaney's B&L, talking about the farm-to-fork movement in the Sacramento region.