Rotary Meeting: June 8, 2021
Introduction:
 What a monumental Day June 8th was! Why you ask? This was the first time, in quite some time, that President KEVIN SMITH-FAGAN (Executive Director of Fairytale Town) was able to call our meetings to order, in person! Yes, that's right. We have returned to our typical in person meetings at The Annunciation Greek Orthodox Church. A special thanks to all of the many Rotarians that helped make our gathering possible. ROY ALEXANDER (Retiree of the Sacramento Children's Home), TODD ANDREWS (President of Andrews Construction, Inc.), and KATHE NATHAN (Retiree of Merchants Banks of Commerce), all of which were our greeters; RICHARD WERTZ (Retired Physician) for gracing us with a performance on the piano; JOHN SWENTOWSKY (Owner of Swentowsky Photography) for capturing the event as its photographer; KEVIN WILLIAMS (Chief Sponsorship Manager of KVIE) for donating the wine for our wine reception; CHRIS ANN BACHTEL for pouring the wine; and JOHN GORALKA (Founder of The Goralka Law Firm) for assuring the day's remembrance as our Pulse Reporter.
Thought for the Day:                                                                                                                                                                                                                                                                                                                              
PAST PRESIDENT DANIEL COLE had the pleasure of giving our quote of the day. When asked, the first thing that came to his mind was gratitude. PAST PRESIDENT DAN quoted American essayist Ralf Waldo Emerson's short essay on gratitude:
 "Gratitude… For each new morning with its light, for rest in shelter of the night, for health and food, for love and friends, for everything thy goodness sends…"
PAST PRESIDENT DAN reminded us all that we have so much to be thankful for.
Club Announcements:
PRESIDENT KEVIN SMITH-FAGAN called for a standing ovation for our PRESIDENT ELECT NOMINEE LINDA GEERY (Gilbert CPA), the PRESIDENT ELECT NOMINEE who will serve as President of the Rotary Club of Sacramento in the years to come.
We learned about the unfortunate passing of fellow Rotarian HORACE WULFF. HORACE passed away May 30th, 2021 at the age of 95. He was a long-time active member of Rotary and his family's roots in Sacramento stretch as far back as the gold rush. He was born at Sutter Hospital, went to Sacramento High School, and eventually Stanford University receiving a master's in engineering. HORACE'S passion for Culinary Arts resulted in the establishment of WULFF'S FRENCH RESTAURANT. His restaurant was a landmark of Sacramento for almost 20 years until HORACE and his wife decided to retire in 1991. This reporter thanks him for the many fine meals enjoyed at his phenomenal restaurant. HORACE'S obituary was featured in The Sacramento Bee and the online article gives you the option to send his family flowers. In his honor, we had a moment of silence. HORACE is deeply missed by us all.
CALLE SETZER hits HOLE-IN-ONE with two (2) successful Golf 4 Kids tournaments this year. The Pulse was able to obtain footage from ESPN of CALLE at the Golf 4 Kids Tournament. CLICK HERE to see CALLE'S HOLE IN ONE.
CALLE SETZER also brought us up to speed with the success of the Annual Golf 4 Kids at William Land Park, thanking the tournament's many sponsors. As a result of everyone's generosity and commitment the education of children, our beneficiary payout reached approximately $35,000. The 2021 beneficiaries were the Ralph Richardson Center, Luther Burbank High School, Sac State Transition Program, and YMCA Snap Program. You can access the full PowerPoint presentation listing all the sponsors HERE.
Thank you to the following sponsors:
JEANNE REAVES (Consulting)
CHRISTIE HOLDEREGGER (Volunteers of America)
GABRIEL GENDRON (Gabriel Gendron Reality Team)
SETZER FOUNDATION
TED WHITE (Delta Property Management)
KATHY HERRFELDT (Home Care Assistance)
JOHN SHELBY (Merchants National Bank)
ED GREBITUS (Grebitus Jewelry and Fine Gifts)
PAUL KEEFER (Pacific Charter Schools)
SUSAN SHERIDAN (Sheridan Law Corporation)
ELFRENA FOORD (Foord, Van Bruggen, & Pajak)
FORREST JUNOD
DAVID BRANDENBURGER (Newmark Knight Frank)
JOHN GORALKA (The Goralka Law Firm)
RED KAPPEL (Kappel Mortgage Group)
KERRY WOOD (Sacramento Region Community Foundation)
BOOBY REED (Capitol Tech Solutions)
PRESIDENT KEVIN SMITH FAGAN (Fairytale Town)
TODD KOOLAKIAN (Director of Philanthropy of Sacramento Children's Home) announced that, as of June 1st, registration is open for the Sacramento Century Challenge that is taking place on October 2nd. This is the Sacramento Regions premier cycling event to benefit the Sacramento Children's Home Crisis Nursery. You can register for the event and find more information HERE.
KEVIN WILLIAMS named of few of the people who are already committed to sponsoring Sacramento Century including DIGNITY HEALTH, BOB MILLER (Business Development Officer of First US Community Credit Union), and JOHN GORALKA. Sponsorship levels ranging from $1,000 to $10,000. If you contribute $2,500 or more by June 16th, your logo will be featured on the back of the new 2021 Sacramento Century Jersey. This is a great event for a most worth while cause.
PRESIDENT KEVIN SMITH-FAGAN reminded us that KEVIN WILLIAMS, Chairman of the Wine Reception Sponsorship Effort, is still looking for wine reception sponsors. If you can help sponsor please contact KEVIN WILLIAMS HERE.
PRESIDENT KEVIN SMITH-FAGAN notified us all of an adjustment to the proposed amendment to the Rotary Club Bylaws. Keep an eye out in your email for the bylaw announcements that will require a vote at the end of June.
At the annual district conference, ROTARY OF SACRAMENTO was awarded the Governor's Citation for excellence. Our club participated in the Tiny Derby Race where we took 3rd in the category of "Speed" and 1st in the category of "Best looking." The Rotary Club's Car was the only car to place in both categories. Our car was expertly designed by PETER DANNENFELSER II (Past-President). The car celebrated the International Service Committee with a collage of international flags on one side.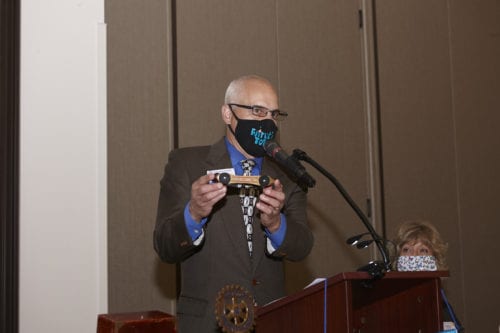 Final Words:
You can watch a recording of the Rotary meeting held on June 8, 2021 by clicking HERE
Our next meeting will be on June 15, 2021 at our homesite, The Annunciation Greek Orthodox Church.
Our guest speaker will be DR. SCOTT FELLER and he will be educating us on the topic of mental health/depression during COVID. DR. SCOTT FELLER is the Chief of Psychiatric Emergency Services for the Alameda Health System in San Leandro, Ca, one of the busiest emergency psychiatry programs in the United States. This is a very timely topic as we emerge from the many pandemic protocols.