President Jim Leet (Boutin Jones) thanked our Greeters, Amanda Nelson, (Albie Aware Cancer Foundation), Julie Sherry, (Watson Companies, Inc.), and Mike Gilligan; Wine Host Steve Johanson (Johanson & Associates), Pianist Mark Luhdorff (IMD Path), Pulse reporter Danielle McGarrity (Children's Receiving Home of Sacramento), and Photographer John Swentowsky (Swentowsky Photography); then introduced Ann Ryan Solomon (UC Davis) to share a vivid poem from Canadian author Marge Piercy celebrating the splendors of Autumn.
MEETING SPONSOR
Meeting Sponsor Past President Walter Dahl (Dahl Law) shared his firm's expertise in in commercial law, bankruptcy, business reorganization, secured transactions and real estate, and reminded us that "before you've lost it all, call Dahl!"
ANNOUNCEMENTS
Clayton Lee (CKL Trust) provided a World Community Services update; presenting President Jim with a flag from Rotary International President Mark Daniel Maloney and shared that Starbucks' new Siren's Blend™ will dedicate a portion of its sales to the "Days for Girls" program focused on improving school attendance among girls in developing countries.
Past President Susan Sheridan and Maggie Hopkins (Capital Premier Lending) updated the club on the Sacramento Century Classic – so far $163,500 has been committed for the Crisis Nursery at the Sacramento Children's Home, nearly 35% of which has come from our generous club members! Susan shared that this year's route will unfortunately not include a ferry ride over the river, due to the ferry being out of commission. Maggie encouraged members to sign up for volunteer shifts and encourage your friends and family to do so as well! www.sacramentocentury.com/volunteer/
Networking Event Chair Elena Naderi reminded us to register for the first Networking Night of the year – October 23 from 5:30-7:30 at Revival (in the Kimpton Hotel downtown).
LET'S GO ON A JOURNEY
Rivkah Sass (Sacramento Public Libraries) celebrated the Libraries' recent feature in the Sacramento Bee and their recent Adult Graduation Ceremony at which 26 folks who recently completed their high school degrees received diplomas. Dan Fenocchio (Cunningham Engineering) cheered the River Cats' victorious outing in the AAA Championship and celebrated throwing out the first pitch at one of their final regular season games.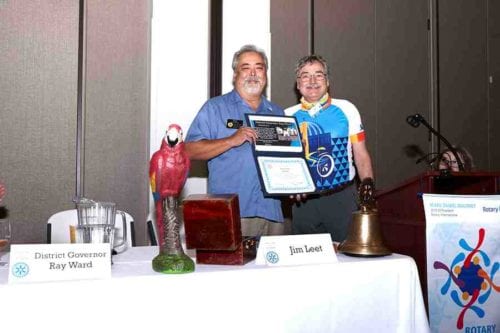 CONNECT & INSPIRE LEGACY – A VISIT WITH DISTRICT GOVERNOR WARD
Chair of the Day Past President Fred Teichert (Teichert Foundation) welcomed Assistant Governor Dave Veden, District Governor Ray Ward and Stacy Graham (visiting from District 5190).
Governor Ward told the club about his interpretation of Rotary International's goal for the year ("Grow Rotary"), by achieving greater visibility and recognition for the work Rotarians bring to our communities. He encouraged us to reach out and check on fellow Rotarians; to connect with other clubs; and to remain plugged into our local communities to best understand their needs.
"Soaring Rotarian" and "Quiet Rotarian" awards were presented to Callee Setzer (Setzer Forest Products) and Julie Sherry (Watson Roofing), respectively; Governor Ward recognized them for their commitment to Rotary's ideals and the dedication they bring to all that they do on behalf of the club.
Governor Ward encouraged members to consider our Rotary legacies: who inspires us to give back? Who are we passing the "service" bug along to in our lives? He recommended that the club consider youth-friendly service projects and social gatherings to introduce more young people to Rotary.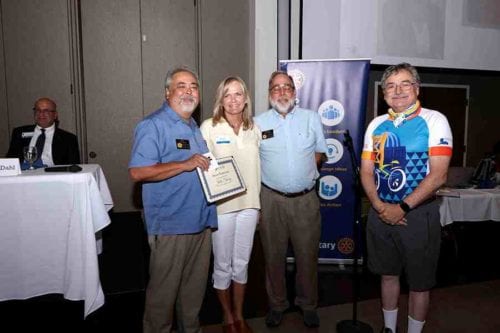 One such opportunity coming up next Spring will be a district-wide Rise Against Hunger meal packing event and fundraiser with the goal of filling an entire shipping container with meals for the world's most vulnerable.
Finally, we were treated to a preview of the District Conference in Reno on October 25-27 – pack your finest tropical gear and register by October 1 to lock in the Peppermill's special rate!