MEETING SPONSOR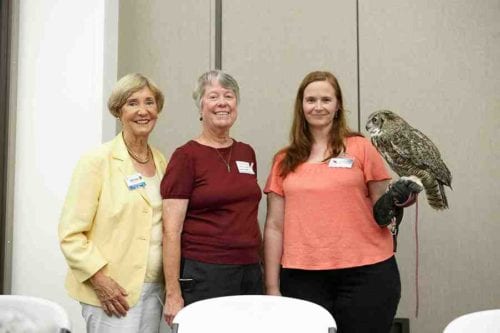 Thank you to our meeting sponsor, Past President Diane Woodruff (California Community Colleges). Diane donated her time to Joey Johnson, Board President of Effie Yeaw Nature Center. Effie Yeaw Nature Center offers quality education experiences in nature for people of all ages, backgrounds, and incomes; believing that, by doing so, those participating become better stewards of our planet. Accompanied by ambassador owl "Echo," Joey described many of the wonderful programs the Center offers. She also encouraged individuals and businesses to get involved by outlining sponsorship opportunities. To support the Center, please visit sacnaturecenter.net/support/.
PINNING OF ED TOWNE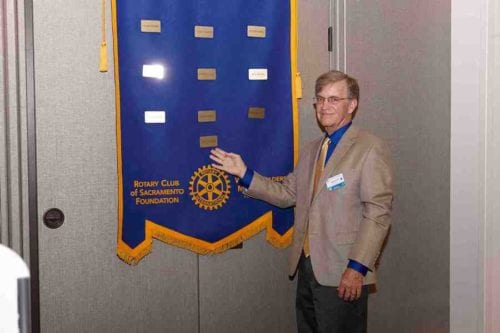 Elfrena Foord (Foord, Van Bruggin, & Pajak), as Legacy Chair of the Foundation announced the next person to be added to the immortal flag: Ed Towne. Ed epitomized loyalty and commitment in his marriage, his company, and in his devotion to our club. Ed's son, Bradley Towne (Law Office of Bradley Towne), secured Ed's pin to the flag. A moment of silence was observed in Ed' honor.
ANNOUNCEMENTS
Past President Beverly Brautigam graciously invited all members and their families to her and Hal's home this Sunday, August 18th, from 3-7pm at 9696 Elk Grove Blvd for the annual BBQ Swim Party. Hal will be BBQing and Beverly promises shade and chilled beverages!
John Swentowsky (Swentowsky Photography) informed us that the morning shift for Loaves & Fishes on Thursday, August 29 is full, but they do need four more volunteers for the afternoon serving between 10:45 and 2:00. Please contact John at (916) 488-1130 for more information.
The Sacramento Century team of Ruth Tesar (Northern California PET Imaging Center), Todd Andrews (Andrews Construction, Inc.), Tim Mattheis (WMB Architects), Tom Bacon (Bacon Commercial Real Estate), and Becki Roberts (Central Valley Community Bank) gave us a detailed update on this fall's fundraiser; highlighting the promotion successes to date, but also the need for more volunteers to promote the race, assist before/during/and after the race, and in Challenge Champion recruiting/fundraising. The fundraiser supports the Children's Receiving Home's Crisis Nursery and ALL members are encouraged to participate!
Robyn DeLong (Coldwell Banker) asked us to "Save the Date" for the September 18 Fireside meeting at the home of Strati Vourakis (Calm Computing) and his wife, Kadie.
LET'S GO ON A JOURNEY
Our Rotarians were so generous in their donations:
Leo McFarland (Volunteers of America) donated $300. That is $100 to Jim Olsen's Paul Harris, $100 to Christie Holderegger's (Volunteers of America) Paul Harris, and $100 for himself.
Rick Osen (Sutter Builders, Inc.) $350
Dick Osen $250 to his son Rick's Paul Harris.
Rivkah Sass $100
Surender Singal $100
Jim Craig donated $250 to Thom Gilbert Eddie Mulligan
Chris Ann Bachtel $595 to her Eddie Mulligan
Liz McClatchy donated $200.
CHAIR and SPEAKER OF THE DAY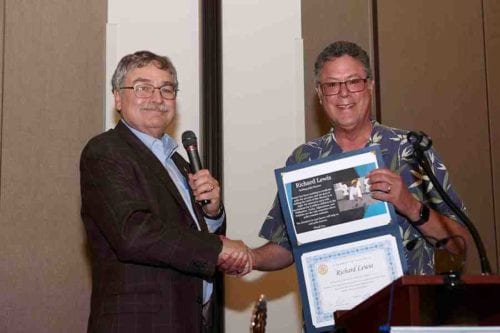 Thank you to Giuliano Kornberg (Sacramento Philharmonic & Opera) for introducing our Speaker of the Day, Richard Lewis, President and CEO of Broadway Sacramento. In an engaging and often humorous discussion, Richard highlighted the differences between the organization's Broadway at Music Circus and Broadway on Tour productions that, combined, entertain over 250,000 patrons every year. As the Broadway on Tour location has had to vacate its usual home at the Community Center due to its renovation, Richard discussed the three biggest enhancements necessary to improve its temporary home at the Memorial Auditorium: sound quality, bathroom accessibility, and loading docks. The first show at the Memorial will be "A Christmas Story" in November.
Music Circus will be presenting "In the Heights" from August 20th – August 25th. This show was created by Lin-Manuel Miranda who also created Hamilton. In the Heights captures the sights and sounds of a vibrant New York neighborhood on the brink of change. This show focuses on what it truly means to be home, told through relationships of the residents of the neighborhood. Good seats are still available!
THANKS TO MEMBERS WHO SERVED AT THIS MEETING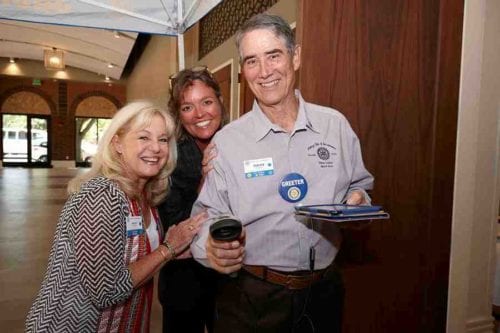 President Jim Leet (Boutin Jones Inc.) opened the August 13, 2019 meeting by thanking our wine sponsor for the day was Jim Craig, Dick Wertz who regaled the pre-meeting crowd with Broadway-themed tunes on the piano, Leigh White (KTXL TV FOX 40), Becki Roberts (Central Valley Community Bank) and Thom Gilbert who warmly welcomed all as our meeting greeters, Mark Luhdorff who served as our Pulse reporter, and John Swentowsky (Swentowsky Photography) who captured the meeting with his photography. Special thanks to Virginia Varela (Golden Pacific Bank) who provided a powerful thought of the day on inclusion.