"Live as if you were to die tomorrow. Learn as if you were to live forever." – Mahatma Ghandi
This Quote for the Day, shared by Bob Miller (First US Community Credit Union), set the stage beautifully for the August 20th Rotary Club of Sacramento meeting as our guest speaker Dr. Steven Winlock, Executive Director of the Sacramento County Office of Education Leadership Institute, shared with us his thoughts about the importance of including the creative arts in a well-rounded, inspirational education for our youth.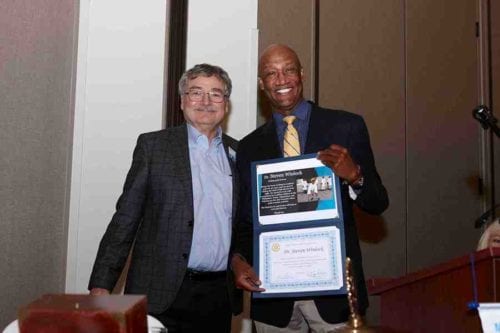 President Jim Leet (Boutin Jones Inc.) welcomed Dr. Winlock, a long-time educator, singer, dancer, and performer who also chairs the Sacramento Metropolitan Arts Commission. Dr. Winlock discussed how the county office of education is working to ensure that an arts education, which is proven to result in more engaged students overall, is integrated into school curriculum throughout the county. Because of funding challenges for these programs, Dr. Winlock is collaborating with Mayor Steinberg and our local community through the Creative Edge program to bring visual and performing arts programs into our schools to "educate the whole child" and advance cultural equity for students from all walks of life.  Part of this effort is to provide schools with a Creative Edge arts directory so that teachers and administrators can discover which programs and partners are available and the right fit for their schools and students.
Dr. Winlock ended his talk by singing a short, lovely rendition of This Little Light of Mine – and it's clear he will make 'letting it shine' a reality for our local students.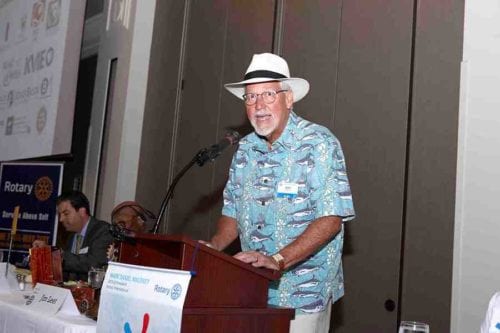 In relation to the discussion about arts education, Jeff Curcio (Murphy Austin), shared that he will be moving to Pismo Beach to be closer to family. His son, a musician and band member of Moonshiner Collective, recently had a song he wrote and performed chosen as the theme song for Visit San Luis Obispo. Jeff played an SLO promotional video including the song and we could immediately see why it was picked!
Thank you to our meeting sponsor, Jeff Curcio, Esq. (Murphy Austin Adams Schoenfeld LLP). Mark Luhdorff welcomed us on the piano. Our greeters were John Frisch (Newmark Knight Frank), Joe Blanton (Capital Rivers Commercial Real Estate) and Jamie Furlong (Legacy Investment Real Estate). Our wine reception was provided by Dan Fenocchio (Cunningham Engineering) and Bob McLean (McClean and Tillostson Construction). Our Pulse reporter was Theresa Wheeler (Prevail Public Affairs), Photography was provided by John Swentowsky (Swentowsky Photography).
Also at the meeting, Rotary members were honored with Paul Harris and Eddie Mulligan awards – noting the commitment of these members in funding up to $90,000 per year to fund local and worldwide Rotary charitable programs. Thank you and congratulations to them all!
In announcements, John Swentowsky (Swentowsky Photography) reminded us that the Loaves and Fishes day is taking place next Thursday Kathe Nathan (Merchants Bank of Commerce) encouraged members who are able to participate in the club's blood drive on September 2nd, and Todd Andrews (Andrews Construction, Inc.) welcomed more volunteers to help promote the October 5th Sacramento Century Challenge along our local bike trails. Our meeting next week will feature a kick-off for the Sacramento Century Challenge.