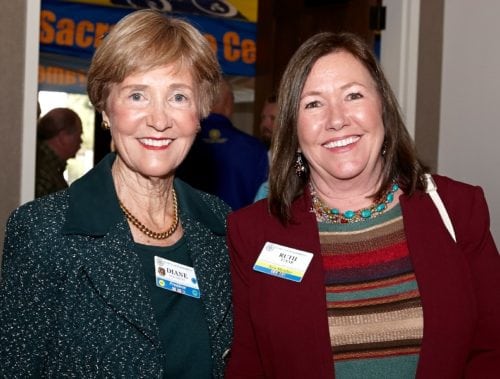 President Diane Woodruff convened a packed, energetic luncheon.

Luann Richardson (Re/Max Gold) dedicated her Thought for the Day in honor of club legend Mead Kibbey, who died recently. It's not your epitaph that matters, she said, but what you did during your life for others.

Elfrena Foord (Foord, Van Bruggen & Pajak) introduced new club member Ruth Tesar, CEO of Northern California PET Imaging Center. Ruth is a national leader in nuclear medicine and, after many travels, has returned to her Sacramento roots.
Grant Bledsoe (Three Oaks Capital Management) shared the wonderful news that his wife delivered a beautiful baby boy, the family's second child.
Past President Dan McVeigh (Downey Brand) shared photos from his recent three-week trip to New York and Ontario, with highlights including Niagara Falls, Cooperstown, FDR's birthplace and a souvenir shop offering three-minute sand timers – a perfect gift for President Diane to keep meeting sponsors to time!
Club Announcements
Germany Trip – Bruce Hester (Colliers International) and Elfrena Foord promoted the club's group trip in May.

Greek Festival tickets – as thanks for the club's tenancy, the Annunciation Greek Orthodox Church offered free tickets to club members for the church's big festival this weekend.
Sac Century Update
Past President Susan Sheridan, event co-chair, reported encouraging numbers. 950 riders are signed up toward the goal of 1,000, with registration revenue closing in on its $75,000 goal. Challenge champions are nearing a $50,000 target.
Volunteers are urgently needed! If you haven't yet, please sign up right away. Tim Mattheis (WMB Architects) was saluted by President Diane for his exhaustive efforts in laying out the logistics. Tim shared these remaining volunteer needs:  Wristbands 6 – 8 am; bike valet, 4 – 6 pm; drink servers 11am – 6pm; set up 7:30 -10:30 am, hospitality greeters, 1 – 3 pm, signage placement early morning; merchandise sales, all day, parking attendants, 6am; clean up 6 – 8 pm.
Jamie Furlong (Legacy Investment Real Estate) and Dennis Smith (Tsakopoulos Properties) recounted the fun from the recent Sac Century benefit held at Todd Andrews' home, featuring the bands The Yard Dogs (featuring Todd and Dennis) and the Rotary Rockers. It raised $2,400 for the effort.
Chair of the Day Dick Osen introduced the lunch's featured speaker, Mike Testa, the president and CEO of tourism bureau Visit Sacramento.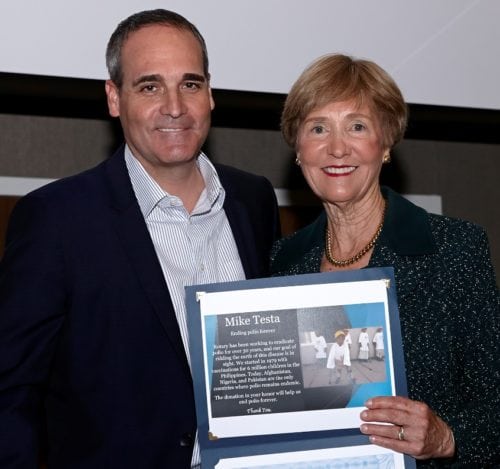 In presenting his overview of Visit Sacramento's work, Mike stressed the region's growing reputation as America's Farm to Fork capital. His team led last weekend's Farm to Fork Festival, which attracted 80,000 people to Capitol Mall. He reflected upon Sacramento's evolution this past decade from leaning on its Gold Rush history to today's vibrant community with great arts, lively music, excellent food, and numerous diversions.
Infrastructure, Mike reported, is a huge issue in growing the number of visitors. Sacramento lags far behind other cities in hotel space, so adding capacity is a prime priority. The convention center building has limited the city's appeal to convention planners. A bold renovation of the convention center will start in December, and the upgrades and expansion will bolster greatly Sacramento's capacity to welcome convention traffic.
Music festivals are another key way to bring outsiders to our city, and Visit Sacramento is working to develop a string of music events that will attract tons of out-of-town visitors.

The Golden 1 Center has made a huge impact by drawing top concerts, which fills the restaurants and hotel rooms, and brings much-needed revenue to downtown businesses.

No meeting next week as the club recovers from the massive Sac Century effort – which we'll celebrate at the next luncheon on October 16.
Along the way, President Diane saluted door greeters Jamie Furlong, Grant Bledsoe, and Gary Bazlen (Nicolaus Optical); Pulse reporter Kerry Wood (Sacramento Region Community Foundation); photographer John Swentowsky (Swentowsky Photography); and wine reception sponsor Ed Wright (Martensen Wright PC).