President Jim Leet (Boutin Jones, Inc.) brought the meeting to order and began by thanking Elfrena Foord (Foord, Van Bruggen, & Pajak)for her piano recital and our greeters Kathy Herrfeldt (Home Care Assistance), Jerry Haley and Ted White (Sacramento Delta Property Management), Pulse Reporter John Goralka (Goralka Law Firm, PC) Photographer John Swentowsky (Swentowsky Photography) Wine Reception presented and poured by Ann Solomon (University of California, Davis).
THOUGHT FOR THE DAY
Margo Fowkes (OnTarget Consulting, Inc.) provided our thought of the day – In keeping with our Century Ride theme, Margo shared quotes about cycling from those who don't ride including:
Albert Einstein – "Life is like riding a bicycle, to keep your balance you need to keep moving."
Mark Twain – "Learn to ride a bicycle, you will not regret it if you live…"
PLEDGE/NATIONAL ANTHEM
President Jim led the club through the Pledge of Allegiance
INTRODUCTIONS
Sergeant-at-Arms John Wood (McGee & Thielen Insurance Brokers) introduced our guests including two prospective members.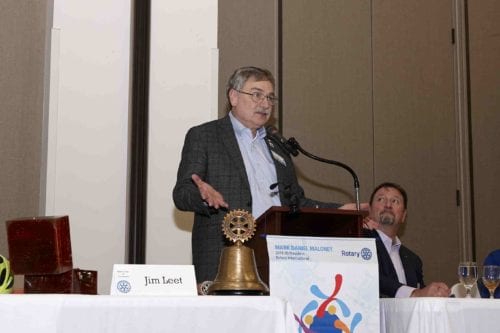 MEETING SPONSOR
Past President Susan Sheridan is our meeting sponsor and donating her time to Inner Wheel.  Inner Wheel is an international group devoted to true friendship, personal service and fostering international understanding. Our own Kiefie Breuer explained that Inner Wheel is a woman's group with a rich history dating back to 1924 in Manchester England.
Originally affiliated with Rotary as a support group, Inner Wheel is now open to all women. Inner Wheel has over 130,000 members in more than 104 countries. Contact Kiefie to learn more about the Inner Wheel projects and activities.
ANNOUNCEMENTS
Robyn DeLong announced the next annual Fireside December 4th, to be hosted at the home of Past President Fred and Nancy Teichert. Thank you, Fred and Nancy!
Buddy Hubbert, Ron Cane and Elena Naderi are hosting Entrepreneurship Event, please join us at the Sutter Club on Wednesday, Nov 6th from 5:30 – 7:30. Attend to meet with other entrepreneurs, future entrepreneurs, and knowledgeable support professionals. Whether you are looking for answers, or if you are available to provide valuable support and knowledge, take advantage of this opportunity for Rotary fellowship and exchange ideas and experience with other Rotarians. And maybe partake in a beverage or two. This is an opportunity to meet fellow Rotarian and learn about all things entrepreneurial. Look for a separate email invitation.
John Swentowsky and Virginia Wade noted that Rotary is at Loaves & Fishes this Thursday October 31st. We need four more volunteers for the lunch shift from 10:30am to 1:30pm. Please contact John or
Past President John Lemon (Knox, Lemmon & Anapolsky, LLP) announced that our next meeting Tuesday (November 5th) will be Veteran's Appreciation Day. John promised our own Veteran's parade. See you there!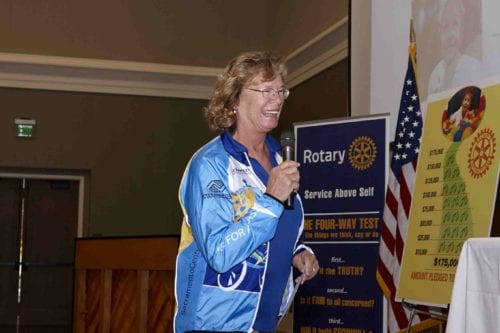 SPEAKER INTRODUCTION
Past President Susan Sheridan provided an overview of the excellent results from our recent Century Ride. Susan thanked all of the volunteers, fundraisers and champions that made the 6th Annual Century Ride a success. In particular, she thanked Ride Chair Roy Alexander, Fearless Champion Todd Andrews (Andrews Construction, Inc.) Financial Supporter and President Jim Leet (Boutin Jones) Mall architect Tim Mattheis, (WMB Architects) who tirelessly designs our presence on the Mall each year and obtains city approvals, Dennis Smith (Tsakopoulos Management Company, LLC) for hiring bands including the soon to be touring Rotary Rockers and arranging parking, Educator and charitable coordinator, Todd Koolakian (Sacramento Children's Home) fun was had by all for a very good cause. Our total revenue generated is not yet available. In just five prior years, we raised over $1,342,000, This year will provide a substantial contribution once again. Mark your calendars for the 7th annual Century Ride on October 3, 2020!