President Jim Leet (Boutin Jones Inc.) gaveled the meeting to order and began by thanking members who served during the meeting. Special thanks to Mike Bullington for greeting us with the piano and to our greeters, Christie Holderegger (VOA), Joel Hockman (Pucci's Pharmacy), and Marcella Cooper (Girl Scouts). Thanks also to Paul 'Scoop' Keefer (Pacific Charter Institute) for the low brow reporting. Much gratitude to John Swentowsky (Swentowsky Photography) for memorializing the event with pictures. Thank you, Don Brown, for the delightful wine reception. Finally, thanks to Thom Gilbert who presented a prayer in honor of our Veterans and 'D-Day'.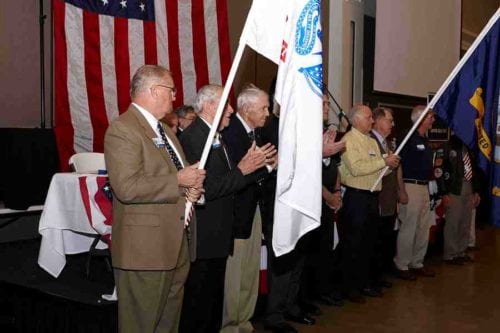 The Rotary Club of Sacramento celebrated our veterans with honor and class. Past President John Lemmon (Knox, Lemmon & Anapolsky LLP) welcomed the five branches of our United States military and our fellow Rotarians that served representing their branch. This moving ceremony was captivated by our very own 4-Way Test Quartet of Kevin Smith-Fagan (KVIE Public Television), Dick Osen, John McIntyre (Mercy Foundation), and Kevin Williams (KVIE Public Television) singing the branches songs. Our singers also sang the Star-Spangled Banner. Many thanks go to Jackie Kirkwood for sponsoring and organizing this spectacular event and to John Swentowsky (Swentowsky Photography) for organizing the parade of military branches.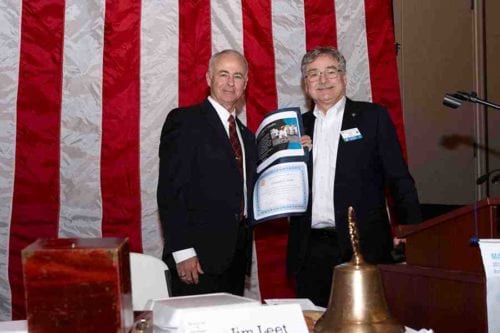 We were honored to have Christopher Conlin (City of Sacramento, Assistant City Manager for Public Safety) share the story of his military service. Chris has a long resume of both serving our country and our community. Chris spoke to his memories as a Colonel in the Marines and of his service in Iraq. His honesty, the extraordinary details of his missions and his values as a Marine Corp veteran impressed us all. Beyond sharing his memories, Chris also described how important our veterans are to our communities and the many skills that may not show up on a resume. He reminded us that veterans have critical baseline skills that they can fall back on to be successful in any industry that they pursue. He also iterated that our veterans are trained leaders.
Meeting Sponsor
Jackie Kirkwood sponsored the meeting and donated her time as sponsor to Volunteers of America (VOA). Christie Holderegger (Volunteers of America) reminded us of the importance of our veterans in our community and the work that VOA has been committed to since 1911. Christine used part of her time to show a moving video that illustrated the moral injury that some of our veterans' experience. Christine coined it the 'trauma to the soul.'
Announcements
Fireside Chat with the Teichert's: Past President Fred Teichert (Teichert Foundation) assured fellow Rotarians that the Fireside Chat will be held at their house on Tuesday, December 10th. He did remind us that he has a big house so we should fill it up!
Veterans ride the Train for Free: Thom Gilbert announced that veterans will be able to ride the train for free on Monday in Old Sacramento with the support of the Railroad Museum.
Steve Huffman presented the Caregram for Skip Lawrence.
Buddy Hubbert (Mother Lode Capital) invited Rotarians for the last few spots available for the first Entrepreneurship session at the Sutter Club.
Maggie Hopkins (Capital Premier Lending & Premier Realty) introduced Prospective Members and Guest of Rotarians.
Next Meeting the Speaker is. Brian Asher