The expansive generosity of Rotarians was on full display at our October 30 luncheon, through the numerous examples of our club's good work throughout the community.
Meeting Sponsor Past President Dave Cohen (Cohen-Durrett, LLP) generously donated his time to Don and Dawn Nahhas, founders of Josh's Heart, Inc. This organization was created in memory of their son Joshua Brent Moore, who died at 32 in 2016 from complications due to alcoholism. Josh's Heart reaches out to people in the homeless and addicted communities to show those who feel lost and forgotten that they matter. One way they accomplish the mission is by providing "Blessing Backpacks" filled with items that provide comfort and self-esteem.
Announcements
Golf For Kids – event chair Bob Miller (First US Community Credit Union) announced the kickoff of G4K, set for May 6 at Valley High Country Club. The effort benefits physically impaired children in the Sacramento area.
Blood Drive – with fangs dripping, Kathe Nathan (Merchants National Bank), Callee Setzer (Setzer Forest Products) and PP Skip Lawrence (retired) invited everyone to give blood by Friday, November 30 to help us to the goal of 275 pints (and of course, beat Point West!); giving by November 23 leaves enough time for you to give a second time during our big push the week of January 14.
Daughters Day – organizer Alice Sauro (Sacramento Philharmonic & Opera) announced that this special day is coming up on December 18.
Fireside – John Frisch (Newmark, Cornish & Carey) invited members to attend a Fireside on November 14 at John and Maggie's home in Arden Park
Books for Kids – Nancy Teichert (Writer) asked for suggestions for children's book titles for 5th grade book donations, which will put classic books in the hands of children whose bookshelves may be empty.
Paint The Town – Jackie Kirkwood (Goodwin Cole) and Ted Kappel (Kappel Mortgage Group) announced the next Paint the Town project is coming up on November 10 and volunteers are needed to assemble "comfort cases" for foster kids.
Networking Night – Elena Naderi (family CEO) invited all to join the next Happy Hour on November 28 at 5:30pm at the Diplomat Steakhouse.
Donations to the Club.
Some club members shared good news with donations to the club. Dr. Judy Kjelstrom (retired-UC Davis) donated toward her Paul Harris and her Eddie Mulligan to celebrate having received the James Meyer Distinguished Achievement Award at UC Davis. Elfrena Foord (Foord, Van Bruggen & Pajak) also donated to her PH and EM in recognition of getting a Philanthropist of the Year Award from the Association of Fundraising Professionals. Jackie Kirkwood donated in recognition of her inclusion on the "40 Under 40" achiever list published by the Sacramento Business Journal. Nian Roberts (NSR Inc.) donated to his EM and PH. UC Davis alumnus and dad Paul Bystrowski (Hub International) honored the guest speaker with a club contribution, and John Frisch donated just to remind everyone that, amid this Aggie lovefest, that his beloved Cal still exists.
After a rousing introduction by Judy Kjelstrom, UC Davis Chancellor Dr. Gary May took the podium as our lunch speaker. Dr. May has a great deal to be proud of as the university's profile continues to rise – UCD is ranked first in the nation for its agricultural program and first in the world for veterinary medicine!  Dr. May is particularly proud of UCD's 8th place listing on Money Magazine's list of "Most Transformative Colleges," which ranks the social mobility of graduates entering an increasingly diverse and global workforce.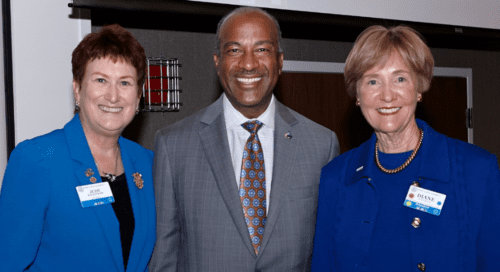 Dr. May related that UC Davis is second only to state government as the largest employer in the Sacramento region. Reinforcing its role as an economic engine, he shared that technologies developed at Davis over the past decade have led to 137 start-up companies in the fields of health and technology.
His central theme was that "we are not a university on the far side of the causeway; we are part and parcel of the Sacramento region." Dr. May announced the details of a new project, Aggie Square, which will be an innovation hub in Sacramento linking the university's world-renowned research, faculty and students with the business sector. "Aggie Square will assemble several of our region's outstanding assets into a coherent whole," he explained. "Businesses and communities in other urban regions have profited from partnering as hubs of innovation with their local universities, including MIT, Research Triangle Park in North Carolina, Carnegie Mellon in Pittsburgh, and Technology Square in Atlanta." Clearly, we are entering a new era of opportunity between UC Davis and Sacramento. Go Aggies!
President Diane thanked the cast for this great meeting. The day's wine sponsor was PE Jim Leet (Boutin Jones) and pourers were Jackie Kirkwood and Maggie Hopkins (Capital Premier Lending & Premier Realty). Jack Anderson (Dick James & Associates) provided piano entertainment. The door greeters were Susan Schoening (Kennaday Leavitt PC) and Darlene Hailey (retired – Department of Corrections). Eric Solis (Wells Fargo Advisors) provided an inspiring Thought for the Day about gratitude. Speaking of gratitude, appreciation is always due to John Swentowsky (Swentowsky Photography) for his work behind the lens. PP Skip Lawrence sent the group forth with a Smile for the Day quip. The Pulse reporter was Shirlee Tully (Capital Public Radio).