The Bell was rung and President Diane Woodruff welcomed everyone to the Rotary Club of Sacramento.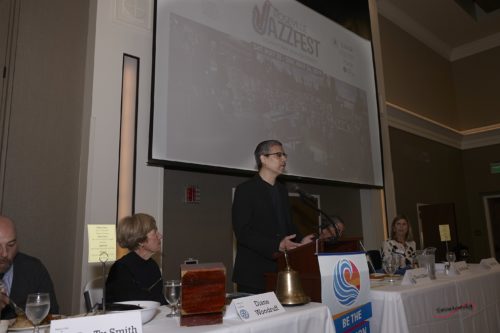 Judy Daru (JA Collins Properties) was the sponsor of the day and she graciously provided her time to Jim Martinez from the Roseville Jazz Festival. The festival will be May 25 and 26 in downtown Roseville.
John Frisch (Newmark Knight Frank) was joined by Elfrena Foord (Foord, Van Bruggen, & Pajak) to share the highlights of the Dive Bar Tour. Using Las Vegas as an example it is easy to say that what happens on a Dive Bar Tour should stay on the Dive Bar Tour. Obviously a good time was had by all and the most important part was the $4,600 that was raised and presented to Ivan Wild (The Salvation Army) of the Salvation Army.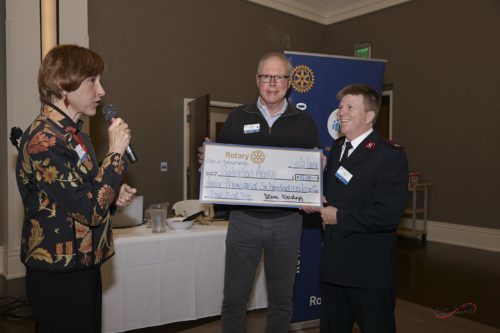 Announcements.
. Mystery Trip – Emperor Wes Yee (Yee Dental Care) gave a plug for the Mystery Trip which will be this Saturday, April 6.
. Theatre Night – Allison Cagley (Friends of Sacramento Arts) announced two remaining tickets for dinner and the performance of Cats on April 6.
. Wined Up for Youth – guest Rotarian Tim Maliepaard from Point West invited everyone to get Wined Up For Youth on May 11 at the California Auto Museum.
. Golf for Kids – Bob Miller (First US Community Credit Union) continued his promotion of the Gold Tournament on May 6. We need golfers and sponsors.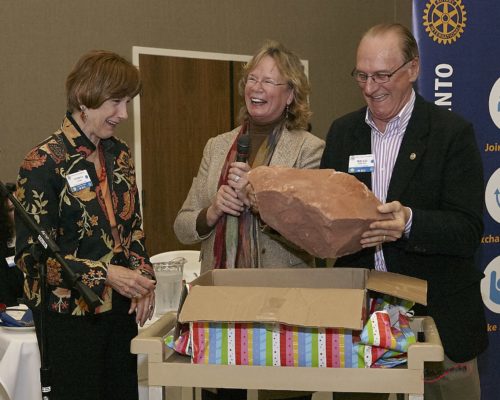 A special presentation by Susan Sheridan was made to Elfrena Foord and Bruce Hester in celebration of the couple's upcoming 20th Anniversary. This amazing gift was obtained by Susan on a recent trip to Sedona in a brightly wrapped package with the hopes that this special memento would find a place of prominence in their home. As they tore into the package, they learned that their special gift was a large, red rock.
President Diane recognized a few members. Virginia Varela (Golden Pacific Bank) was honored for Golden Pacific Bank's being the most profitable community bank in Sacramento; Jeannie Reaves (Jeanne Reaves Consulting) honored Elfrena and John Frisch for their leadership of the dive bar fundraiser; Steve Ruland (Ruland's Office Furnishings) gave a $1 per year in celebration of the 35th anniversary of his business; Jon Snyder (Snyder Commercial Real Estate) honored Steve Ruland for the generosity of Steve's business; and Kory Ley (American Red Cross) announced that she is expecting a new little Rotarian.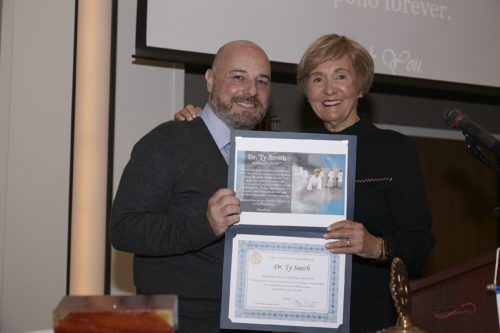 Chair of the Day Cheryl Marcell (CA State Railroad Museum Foundation) introduced guest speaker Dr. Ty Smith from the Sacramento Railroad Museum.  In just about five weeks we will celebrate the 150th Anniversary of the completion of the Transcontinental Railroad, and Ty talked about the museum and the importance or railroads in community identity. He talked about the important role of museums in being a place without walls, serving a laboratories of learning and being about community. Ty noted that railroads run deep in our DNA and are central themes in songs, movies and television. He emphasized that California is what it is today because of the railroad. During the Q&A session we learned that one of the things he appreciates about the California Railroad Museum is the challenge of being "old as steam and as new as Google" all at the same time.
 President Diane started off with a quick round of thanks to guest Jim Martinez for tickling the ivories; Kory Ley and Mike Bullington (Unrestricted Free Agent) for greeting folks at the door; Jay Lowden (Unrestricted free agent) for doing the Pulse write-up; Dee Hartzog for providing the wine; and John Swentowsky (Swentowsky Photography) our photographer extraordinaire. Tom Gilbert provided the opening thought for the day, and Skip Lawrence provided the smile for the day.
 Sacramento developer Mike Heller will be with us next week for part two of his presentation of local development.