President Jim Leet(Boutin Jones) called the meeting to order with a big thank you to Elfrena Foord (Foord, Van Bruggen, & Pajak) on the ivories… to Robyn DeLong (Coldwell Banker), Dan Guth (American River Bank) and Sarah Hodge (California State University, Sacramento) for greeting incoming Rotarians, after which they hit the wine reception hosted by Jerry Kelly (Retired/ State Farm). Jim also thanked John Swentowsky (Swentowsky Photography) for memorializing the meeting with his excellent photography.
Past President Wes Yee (Yee Dental Care) gave us the thought for the day while recapping his recent trip That Seven Sisters sponsored.  He recounted the colors and images of prayer flags.
Sad news Leo McFarland's wife, Laurel, passed recently.  As did Charles Preston, Rita Gibson's (Rita Gibson Insurance & Investment Services Inc.) husband.  Both will be missed. Please extend condolences if possible.
Guests included visiting Rotarians from Point West and the Passport club, as well as Sam Peters a prospective member.
Becky Roberts recapped Central Valley Community Bank virtues.  Headquarters is in Fresno, Ca.  Sacramento Headquarters has been relocated to Folsom, CA.
Announcements:
Care grams to Surender Singal who had surgery recently would be appreciated.
Applications for the Jean Runyon Service Award are being accepted. Contact the Rotary office for more info.
Walk for Literacy is 10/26.  We are looking for 40+ Rotarians, so sign up!
Debby Lott of the Passport Club spoke of a June 2020 volunteer trip to Zambia, Africa.  She is hoping to build two libraries!  Flyers were handed out….
Networking night is 10/23 at the Kimpton Sawyer Hotel.
Buddy Hubbert (Mother Lode Capital) announced an Entrepreneurial Committee has been formed, and there will be a meeting on 11/6
John Swentowsky (Swentowsky Photography) put the next Loaves and Fishes on the calendar, 10/31.
Rotary Generosity continues….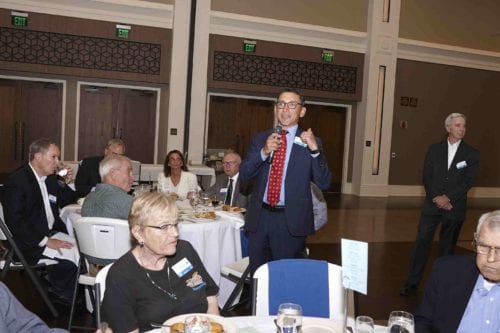 Bob Rosenberg (Inve$tnet Inc.) donated in honor of a hiking trip to Spain and Portugal that he took with his wife, Shirley.  Cameron Law (Social Ventures Partners of Sacramento) and Bobby Reed (Capitol Tech Solutions) were honored for upcoming executives 40 under 40!  Eric Solis (Solis Financial Strategies Group of Wells Fargo Advisors) donated for EACH new YIP mentor totaling 5!
Mark Luhdorff (IMD Path) introduced the speaker of the day his cousin, Dierdre Wolownick.  Dierdre is a mountain climber, marathoner, writer, painter, pianist, conductor and actress (in Free Solo). She formed the West Sacramento Orchestra and spectacularly, the oldest woman to scale El Cap!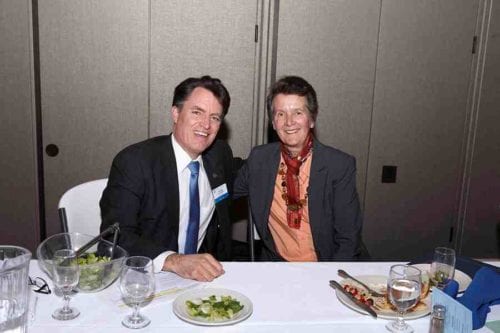 She just finished her book, The Sharp End of Life, and it recounts her travels and trial.  Deidre is the mother of renowned climber, Alex Honnold who has spoken to our Rotary club and traveled the world scaling impossible peaks.  Dierdre was born in NYC in 1953 learning multiple languages on her street as a child. Immigrants over ran New York following WWII.  She spoke Polish and English at home, but soon mastered many others.   She has a soft spot for Rotary as her mother had polio.  She moved to Southern California, then Japan teaching along the way.  She moved back to West Sacramento where her husband's family resided.  She didn't know climbing was a sport!  She didn't consider herself much of an athlete, she just chased around her two children, one of which (Alex) was a tireless climber.
Dierdre wrote for the Sacramento Union and for whomever else would pay her! She also taught classes, again to whomever would pay her!  She was very interested in music and kept that dear to her heart.  After going through the bumpy road of divorce and deaths in the family, she was exhausted.
Over the years the kids encouraged her to run and bike, she became a runner with advice from Alex.  "if you can run one mile, you can run a mile and a half," he said matter of fact.  Alex followed that up with, "If you can run 2 miles, you can run 3."   And so you now know how their family is wired.  This is their approach to life.  Dierdre ran the 2006 California International Marathon.  She has run 4 marathons to date. A few highlights of her amazing life story: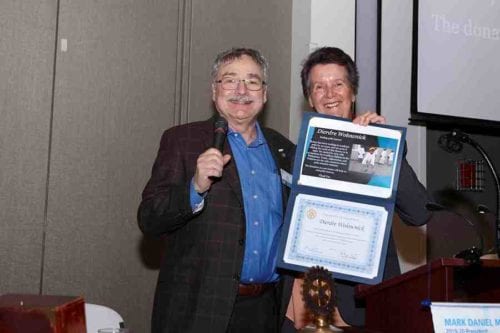 She went to the climbing gym with her adult son (Alex) to understand him. Soon she was hooked.
Alex takes her climbing each September for her birthday.
They were featured in a comic in the New Yorker.
The documentary, "Free Solo," won an Oscar.
2012 Matthes Crest in Tuolumne Wilderness, 10,981 feet
2014- Mt. Conness 12, 590 ft, 1500 feet of climbing after a 7.5 mile hike
2015 Mt Whitney
2016- Royal Arches, 16 pitches (pitch is one rope length = 200ft
10/31/17 (with ropes) 13 hrs up, 6 hours down, she climbed El Cap with Alex after a grueling training schedule for 18 weeks, 3 days per week.
She left us with: If you think you can do it, you can.