In the words of Aretha Franklin: Who's Zoomin' Who?
PRESIDENT KEVIN (Executive Director of Fairytale Town) virtually gaveled the meeting to order introducing participants while heckling WALTER DAHL'S (Dahl Law, Attorneys At Law) cartoon voice, recapping his recent camping trip, praising TOM BACON'S (BCRE – Bacon Commercial Real Estate) golf game, and confirming JEFF STONE'S (HUB International) love for cats.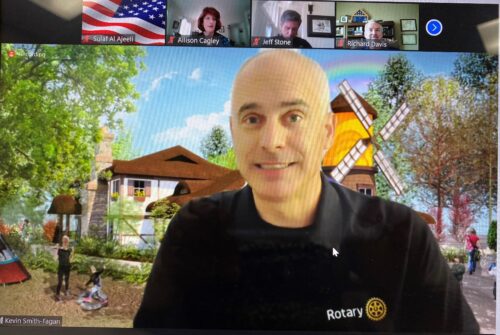 PRESIDENT KEVIN extends his thanks to JIM CULLETON (Strong & Associates) for writing the Pulse newsletter.
ALLISON CAGLEY (Sergeant of Arms) (Friends of Sacramento Arts) thanked JOHN GORALKA (Goralka Law Firm) for his work organizing and implementing the weekly Pulse Newsletter.
RICK DAVIS led us in the Pledge of Allegiance.
A moment of silence was held in memory of DR. BROWN who we recently lost. We send our deepest condolences to DR. BROWN'S family during this time.
FORMER PRESIDENT DAN MCVEIGH (Downey Brand LLP) introduced our meeting sponsor, STEVE SAFFOLD, a semi-retired dentist, who educated us about Solar Cookers. Solar Cookers retain sunlight and heat for cooking and also pasteurizing water. These reflective panels are not only inexpensive and efficient, but the cookers can also fry an egg! 3.9 million Solar Cookers have been distributed worldwide, with over 14 million people directly impacted by thermal cooking. This type of cooking prevents almost 30 million tons of CO2 emissions! There is a potential of $200 billion in savings and benefits annually.
PLEASE VISIT SOLAR COOKER'S WEBSITE FOR MORE INFORMATION!
BRANDON MONTALVO (Morgan Stanley) reported that Golf4Kids was a driving success! A big thank you was extended to all the vendors, golfers, and participants. Food trucks were stationed at the event and provided lunch. The silent auction was able to raise over $6 thousand but it is safe to say we raised approximately $30 thousand, collectively! However, don't miss out, there is still time to support this effort. DAN MCVEIGH donated $200 post tournament, and no one even had to witness him tee off! We are still unsure if anyone was able to make the $250 prize putt, but PRESIDENT KEVIN reminded everyone to thank the tee sponsors and that the chat line will remain open to accept donations.
Thank you to BRANDON MONTALVO, his team, and everyone who came out to support this great cause!
This week's Club Announcements included, JOHN SWENTOWSKY (Swentowsky Photography) leading a few Rotarian volunteers to lend a hand at Loaves and Fishes Homeless Shelter last week. We'd like to extend a special thank you to SURENDER SINGAL, DEE HARTZOG, APRIL JAVIST (Sacramento Public Library Foundation), ALISON CAGLEY, JOHN MCINTYRE (Mercy Foundation) and his daughter Cara for their help in prepping and serving lunches. With their efforts we were able to serve 500 lunches that day. Temperatures were taken upon arrival with COVID-19 in mind and social distancing was also practiced. The guests did not come in contact with any Rotarians as they picked up their lunches from a pass through the window. The next date will be in October, JOHN SWENTOWSKY will announce more details are the date nears.
CLICK HERE for photos of our Rotarian's in action!
TODD KOOLAKIAN (Director of Philanthropy at the Sacramento Children's Home) gave us an update on our virtual Sac Century Bike Ride. We are only two months away from this event! This will also be our 7th annual Sac Century Bike Ride and critical funds are raised for the Sacramento Crisis Nursery.   CLICK HERE to learn more about this great cause! The event will span 100 hours, with riders participating between the time frames of Thursday October 1st at 8 AM to Monday October 5th at 12 PM. Whether you are a rider, walker, or fellow Rotarian, you are able to choose your own distance. JAMIE FURLONG (Bangerter Financial Services) introduced the swag for the event, which will include: a cinch sack, a medal, a vendor discount card, and a neck gaiter. Sponsorship begins at $1,000 and increases from that point. This is a great way to have your company associated with what is sure to be a rewarding and fun occasion as well as a great opportunity for advertisement! Information about the event was e-mailed to 3,400 of the past riders and also advertised via Facebook.
CLICK HERE to get a see the awesome swag for the registering for this event!
JAMIE, NIKKI WARDLAW (College Track) and SARAH HODGE (California State University, Sacramento) will contact local businesses to increase participation in the vendor card network. SARAH encouraged everyone to download the Strava App in order to track your progress, join up with other teams and improve our overall participation. Please consider becoming a Challenge Champion by raising $350 and you will receive a unique jersey!
CLICK HERE for more information on the Sac Century Challenge flyer and HERE to visit the Sac Century website for more information about this great cause!
NANCY TEICHERT (Chair of the Day) introduced the guest speaker, LAUREN GUSTUS, who is the West Region Editor for the Sacramento Bee, and Director of Community Funding for the McClatchy Company. She addresses the need for a legitimate news source in our times of the fake news era. LAUREN currently oversees 200 journalists and 10 newsrooms.
See LAUREN'S PowerPoint presentation with important information is found HERE!
LAUREN tells us that Journalists are front line workers in the war against fake news. Journalism is the only profession that appears in the Bill of Rights!  The Sacramento Bee has 55 journalists that work around the clock 7 days a week and are currently following vital information regarding COVID-19. LAUREN has championed local news organizations which produce over half of the local information, despite having a significantly reduced workforce. In California, 18 news organizations have shut down during the coronavirus. LAUREN strongly feels that, without journalism, we only see what the government wants you to see.
Sadly, LAUREN reported that over 30 newspapers are lost a month, as they are being replaced by "Bots," and 36,000 journalists have been laid off since the beginning of the COVID-19 pandemic. Despite bankruptcy, the Sacramento Bee has been able to stay on top of cutting-edge stories and is one of the most credible media outlets in this data-driven culture. The Sacramento Bee is working to expand its digital subscription growth by reaching a goal of 50,000 digital subscriber, the magical number for the Bee's self-sustainability. Their digital subscription rate remains under their goal at 30,000 digital subscribers.
Please continue to facilitate conversation with your friends and family about what you are reading in the local news as this will help sustain the progress that local newsrooms have made! If you have any questions regarding delivery, rates, or updates for the Sacramento Bee, please contact them via e-mail HERE.
CLICK HERE to for more information about how to subscribe to the Sacramento Bee!
Chatham Asset Management (Chatham) will be acquiring the Sacramento Bee as it emerges from bankruptcy. Chatham promises to keep the staff, current wages, and Union relationships. Chatham is developing long-term plans to strengthen local ties and community support, and boost advertising revenue, news delivery, and news ventures.
LAUREN'S discussion also touched on Devin Nunes, a Fresno Congressman, has raised 4.5 million dollars for his campaign against misinformation and disinformation which has aired on television, radios, and computer screens across the state. Despite his litigious past, Mr. Nunes filed lawsuits against news outlets and multiple local constituents and sharply criticized many news outlets for reporting "fake news." More than 10 years passed since he held a public forum to discuss his views. Nevertheless, LAUREN states that this is a current example of political and social slants which are littered with true and false statements on social media. The Sacramento Bee does not generally cover national news items such as those regarding President Trump. The Bee relies instead upon the Associated Press and its expertise to deliver national, political stories.
The McClatchy Company fully vets these stories stating, "If we don't do it, who is going to do it?" McClatchy fights disinformation and fact checks religiously to ensure a lie does not reach a headline as headlines are prime real estate.  LAUREN reiterated that equity and reporting are as monumentally important as conscientious and truthful reporting at the Sacramento Bee.
The Sacramento Bee will provide a 2020 Voter Guide for the upcoming election season. This will be your chance to carry out your civic duty and make good judgement regarding the insolvency of the local school district, the Sacramento County Union School District.
If you have children or other loved ones of college age, you won't want to miss our next meeting! Tune in at the same time, same place as DR. ROBERT NELSEN discusses Higher Education during COVID-19. As the 8th President of California State University, Sacramento, DR. NELSON is bound to have first-hand insight into the critical matter of educating our next generations.  This is sure to be a substantial and informational discussion as we band together in support of each other, and especially our young people in this uncertain climate.
Read DR. NELSON'S biography HERE!
Remember to share Rotary with a potential member.  Remind potential candidates that: "This is where Leaders Meet to Serve.  The Rotary Club of Sacramento is the premiere organization in the Sacramento region where a large and diverse group of leaders gather to strengthen our community through service, the exchange of ideas, and fellowship. Your journey as a member of the Rotary Club of Sacramento starts with a desire to serve."