The meeting began with a welcome by President Jim Leet (attorney for Boutin/Jones Inc.). Special thanks was given to our greeters, Robert Fuller (Delfino Madden), Theresa Wheeler (Prevail Public Affairs) and Lev Kaganovich (Energy, LEED & Commissioning Consulting). Jim also thanked Surrender Singal for sponsoring the wine reception, John Swentowsky (Swentowsky Photography) for keeping a photographic record of the meeting and our Pulse reporter, Nancy Teichert.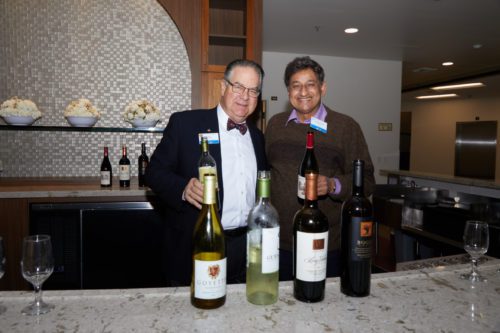 Invocator Tina Reynolds (Uptown Studios, Inc.) reminded us of the recent Martin Luther King Jr. Day events and suggested that members invite people of color to help diversify the club. A moment of silence was devoted to the passing of members Bob Hall and Cyrus Johnson.
Chair of the day was Jeanne Reaves (Jeanne Reaves Consulting). The meeting was sponsored by Past President Fred Teichert (Teichert Foundation) who donated his time to Kenn Altine, CEO of the Sacramento Society for the Protection of Animals. Created in 1892, the SSPCA is a nonprofit funded entirely with donations which finds homes for 4,000 animals every year and offers free or low-cost vaccinations and spaying and neutering.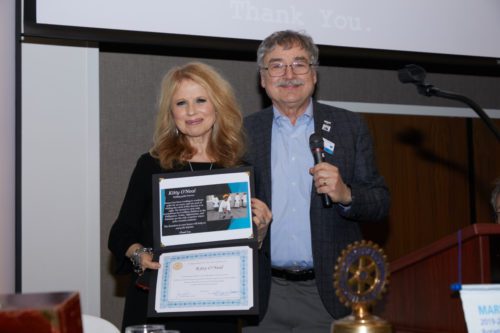 Just one week before walking down the red carpet at the Academy Awards, Sacramento KFBK broadcaster Kitty O'Neal reflected on her concerns about how news coverage has changed during her career. When she was starting out at two local television stations before moving into radio, her editor had cautioned her about the use of certain adjectives that could reflect a bias in a story. Reporting was objective and based on facts, not favoring one political
Listeners now seem to prefer hearing the news from a broadcaster who shares their opinions, she said, warning that it can make for a divisive society. "Facts are very important to me," said O'Neal, a broadcaster for 35 years. "That's not what people do in news anymore. I really make an effort to just tell a story."
Many people today like the news reflected back to them through their own political filter like Fox or MSNBC. She said all listeners have their own lives that have formed the narratives they want to hear and can become angry when others see things differently. "Be kind to everybody," she said.
Rush Limbaugh, who is one of those broadcasters who offers his own view of the news based on his friendship with President Trump worked with O'Neal in Sacramento. Kitty reminded us that we need to be friends with people that may disagree with our views on political issues. She said Limbaugh is a kind and generous man. When Limbaugh made it to the big time, she said Limbaugh flew a group of his former co-workers to New York to share his good fortune.
She also worked with Tom Sullivan, now a national broadcaster. When he worked in Sacramento, she said she had tried fixing him up on a date with her cousin, who was new in town. Sullivan responded, "I don't do charity dates." Then he saw her in the newsroom. "Be still my beating heart," he said of the lonely cousin he later married.
O'Neal discussed staff cuts at many media outlets due to the internet. KFBK is owned by iHeartMedia which recently let go well-known personalities like Paul Robbins and Big "Al" Sands. She lost the co-anchor for her afternoon radio show, Mike Hagerty.
O'Neal was a military brat and landed in Sacramento when her father was stationed at Mather Air force Base. Not only is she a great friend to veterans and to Rotary, but she gives of her time working with numerous community organizations.
She is married to Chef Kurt Spataro and the two of them perform with their own band Skylar's Pool. They also recently performed at the Mondavi and Harris Center with a special Beatles Tribute. This weekend, she will be covering her 28th or 29th Oscar ceremony. Her radio show features segments on people who are enhancing life in Sacramento with good works.
In announcements, Julie Sherry (Watson Companies, Inc.) thanked all members who delivered dictionaries to schools, a project long directed by Jim Culleton (Strong Associates commercial printing).
John Swentowsky asked for volunteers to serve meals on Thursday at Loaves and Fishes. Bruce Hester (residential real estate) and Elfrena Foord (Foord, Van Bruggen, & Pajak) invited everyone to a dinner dance on Feb. 22 at the Elks Club. David Brandenburger (Newmark Knight Frank) announced the annual ski trip on March 6. And, Steve Huffman (Huffman Strategies) asked for care cards for Maynard Nelson and Nian Roberts.