Rotary Meeting: October 27, 2020
ALLISON CAGLEY (Sergeant in Arms) (Executive Director of Friends of Sacramento Arts) welcomed our guest speaker, PROFESSOR MARY-BETH MOYLAN, as well as our newest Rotary member, NICOLE WILHELM (Co-Founder/Realtor of the Wilhelm Team at Compass). A warm and friendly welcome to both of you!
STEVE HUFFMAN presented the thought for the day, a few facts about initiatives and when they started as well as how they came to be. Believe it or not, initiatives go back to Georgia in 1777, their first state constitution permitted initiatives. However, it was not until progressive era in the early 20th century that initiatives took hold, beginning in Oregon in 1902. Thank you for the history lesson, STEVE!
CLICK HERE to view STEVE HUFFMAN'S thought for the day!
The Pledge of Allegiance was led by our newest member, NICOLE WILHELM.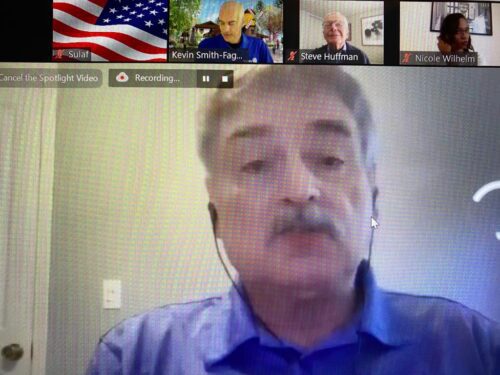 PAST PRESIDENT JIM LEET (Attorney of Boutin Jones, Inc.), our meeting sponsor for the day, brought up the Christmas committee consisting of BRUCE HESTER  and himself and their virtual efforts moving forward. Historically, the Christmas committee has provided toys during the club meetings in December but due to the pandemic we will likely not be able to continue that this year. However, since the need will be even greater this year, Rotary will be holding a Virtual Red Kettle and all money raised will be used in the community. We are currently ranked at number 53 on the team rankings, so let's show our philanthropic attitude and get our number up, Rotarians!
CLICK HERE to donate to Rotary's Virtual Red Kettle
PRESIDENT KEVIN SMITH-FAGAN (Executive Director of Fairytale Town) thanked everyone who attended the past Pints and Pinot with the President. If you missed the previous one and would like to meet with PRESIDENT KEVIN, you still have a chance! He will be holding Pints and Pinot with the President at Florez Bar and Grill on South Land Park Drive on Friday, October 30th at 4:30 PM. PRESIDENT KEVIN reminded everyone that this is not a gathering but simply a time and place where he will be where you can meet with him.
CLICK HERE to view Florez Bar and Grill's website
JAMIE FURLONG (Securitized Real Estate Specialist of Bangerter Financial Services) introduced our newest Rotary member, NICOLE WILHELM. NICOLE is transferring from the Oakland Rotary Club and her mother is also the President of a Rotary Club in the Philippines. She has a daughter named Olivia and is the owner of the real estate group that was founded with her husband, Michael. NICOLE also has a Masters in Marketing Communications and was featured on the show Extreme I Do's for getting married on a volcano in Hawaii. The Network Group, the Wilhelm Team, and East Bay Advisors are ranked #1 in California and #3 in the nation. NICOLE has a natural passion to create a better world for the future and we look forward to seeing you use that passion in Rotary. Welcome, NICOLE, and thank you for joining our club!
VIRGINIA VARELA (President/CEO of Golden Pacific Bank) shared that Golden Pacific Bank was recently honored in the Sacramento Business Journal for a citizenship award. Golden Pacific Bank won the Corporate Citizenship Award due to their efforts in the local community for philanthropic work, especially for their work with the arts. In honor of this award, VIRGINIA has donated $200. Congratulations to you and Golden Pacific Bank, VIRGINIA, and thank you for your generous donation!
CLICK HERE to read the article featuring Golden Pacific Bank
RICK DAVIS donated $100 to kick off Rotary's Virtual Red Kettle, a great start to a great cause. Thank you, RICK!
PAST PRESIDENT PETER DANNENFELSER II shared that him and his wife spent 10 days up in Lake Tahoe celebrating their 20th wedding anniversary. PETER met his wife on a blind date setup by JEAN RUNYON, the first woman to join Rotary of Sacramento. PETER is also on the board of directors for Fairytale Town as well as the sub-committee for Adventure Playground. Earlier this October, 150 kids ran through an obstacle course, which included a mud pit that he helped build. In honor of both of these achievements, PETER has donated $100 towards Rotary's Virtual Red Kettle and $100 towards Polio Plus. Congratulations to you and your wife, PETER! Thank you for both your donations and we wish you many more happy anniversaries.
PAST PRESIDENT WESLEY YEE (DDS of Yee Dental Care) donated $250 in honor of his new grandson, WESTLEY, who was born 10 days prior to the day of the meeting. Congratulations on becoming a grandparent and thank you for your donation, WESLEY!
RICHARD NOONAN (General Manager of Railroad Operations at California State Railroad Museum) donated $100 in honor of the California State Railroad Museum's re-opening. This will be the 3rd weekend in a row that they were able to run the trains. We can't wait to tour the museum again, RICHARD. Thank you for your donation!
KERRY WOOD (Chief Marketing & Donor Engagement Officer of Sacramento Region Community Foundation) contributed $100 in honor of becoming the newest member of the Rotary board of directors. Congratulations, KERRY! Your donation of your time for the board and this current donation are both greatly appreciated.
JOHN MCINTYRE (Chair for the Day) (Chief Philanthropy Officer of Mercy Foundation) introduced our guest speaker, PROFESSOR MARY-BETH MOYLAN. PROFESSOR MOYLAN is the Associate Dean for Academic Affairs and Experiential Learning and Professor of Lawyering Skills at McGeorge School of Law. Besides having a long and extraordinary professional title, PROFESSOR MOYLAN also has a depth and breadth of legal and electoral knowledge that is deeply impressive.
PROFESSOR MOYLAN thanked STEVE HUFFMAN for his thought for the day as she was also going to mention the initiatives and some history about them. PROFESSOR MOYLAN stated it is good to have a conversation to know what you are voting on. She proceeded to give a quick snapshot of the propositions we are currently facing.
PROPOSITION 14
This Proposition comes on the heels of Proposition 71, passed in 2004. This will help to sell $5.5 billion in bonds to continue the research they have already begun regarding stem cells. The pro side to this Proposition is that there is still much work to be done regarding stem cell research. However, it will take $260 million per year for the state to pay this back over time.
PROPOSITION 15
This is a split-role initiative that would leave Proposition 13 alone with respect to residential properties, but would change the formula for taxes on commercial properties. This would cause commercial properties to move to a fair market value instead of an acquired value assessment when looking at what the property tax will be. There are concerns that this will be harmful to small businesses but really only applies to properties that are valued at $3 million or more. The idea is that increased tax revenue will be targeted for schools and community projects such as housing and parks and recreation.
PROFESSOR MOYLAN mentioned that Propositions 16, 17, 18, and 19 are constitutional amendments placed on the ballot by the legislature and are not direct initiatives through the people.
PROPOSITION 16
This Proposition repeals the language of Proposition 209 that was placed in the California constitution. Proposition 209 placed language in the California constitution that said state and local entities could not consider race, color and nationality origin in public education, public employment, and public contracting. The removal of this language will allow affirmative action in hiring, education and more. It would not mandate affirmative action, but would remove the barrier and allow for affirmative action in state and local programs.
PROPOSITION 17
This will allow parolees to vote. Currently probationers, those who are out on probation from serving their sentence and have finished parole, are allowed to vote. Parolees are currently not allowed to vote so this Proposition would allow those who are released on parole to vote.
PROPOSITION 18
This Proposition will allow certain people that are 17 years of age to vote in primary and special elections. This is a very limited and narrow change to the law. PROFESSOR MOYLAN gave the example of her son who recently turned 18 this past June. Her son was not eligible to vote in the primary election due to his birthday falling after the primary election but will be eligible to vote in the general election. If this initiative had been in place before that date, then he would have been eligible to vote in both elections. The idea behind this Proposition is to engage younger people to vote.
PROPOSITION 19
This was originally proposed by a direct initiative in 2018 but failed. It would allow property tax transfer for homeowners 55 or over that are severely disabled or victims of natural disasters to transfer their property tax base to a new home that they purchase. This would work for homes of greater or lesser value. The revenues from this would go towards fire fighter funds as well as fire protection funds.
PROFESSOR MOYLAN paused to say that these and all future initiatives should not embrace more than one subject, but most of these initiatives seem to stretch that fact.
PROPOSITION 20
This Proposition is brought to us by Propositions 47 and 57 as attempts to make some changes to parole considerations for individuals that are convicted of certain types of crimes. It would require DNA collection for some misdemeanors for crimes that were previously felonies but now are characterized as misdemeanors. This Proposition also adds some additional new crimes such as organized retail theft and serial retail theft. It is a criminal justice reform measure, but it is attempting to tighten up some things that some feel may have some loose ends.
PROPOSITION 21
This is the Rental Affordability Act and is a different version of an attempt to allow local governments to allow rent control ordinances.
PROPOSITION 22
This Proposition would allow companies such as Uber, Lyft, etc. to side-skirt AB5 which says that app-based drivers are employees. The companies do not want them to be employees due to the cost and protections associated with it. This Proposition would categorize drivers as independent contractors but give them light employee rights in the California statutes.
PROPOSITION 23
This is the "you die either way" initiative. It is called so due to both the vote yes and vote no ads showing that someone dying by the end of the ad. This Proposition would require that a physician be on-call around the clock for each dialysis center. The CDC would then have to spend more to have a physician present and on-call.
PROPOSITION 24
This is the California Privacy Rights Act that would make changes to existing privacy laws. California currently has fairly stringent privacy laws but not as strict as Europe which has the strongest privacy laws. This is a very complicated initiative and PROFESSOR MOYLAN encourages you to read the entire report to understand the issue better.
PROPOSITION 25
This is a referendum that is tricky. The proponents of the referendum want you to vote no, the opponents of the referendum want you to vote yes. The question on the ballot is, do you want this law that the legislature has already passed. If you want the law that legislature passed, then vote yes. If you do not, then vote no. This law proposes that cash bail should be out and risk assessment should be in for our bail systems and structures.
CLICK HERE to read an even more in-depth summary of the initiatives
CLICK HERE to watch all of PROFESSOR MARY-BETH MOYLAN'S initiative explanations as well as the Q&A
PRESIDENT KEVIN and all Rotarians thank PROFESSOR MOYLAN for joining us today and for her explanation of each initiative. It was highly informative, and we hope you join us again, PROFESSOR MARY-BETH MOYLAN!
Tune in at the same time, same place next week for our next guest speaker DR. LINDSAY CHERVINSKY. DR. CHERVINSKY is a historian of Early America, the presidency, and the government — especially the president's cabinet. She shares her research by writing everything from op-eds to books, speaking on podcasts and other media, and teaching every kind of audience. On her site, you'll learn more about DR. CHERVINSKY and her work, especially her recent book, The Cabinet: George Washington and the Creation of an American Institution.
CLICK HERE to read more about DR. LINDSAY CHERVINSKY