Sporting a Rotary baseball cap, President Kevin Smith-Fagan (Executive Director of Fairytale Town) opened the meeting with enthusiasm for the opening of Major League Baseball with the San Francisco Giants playing the Los Angeles Dodgers.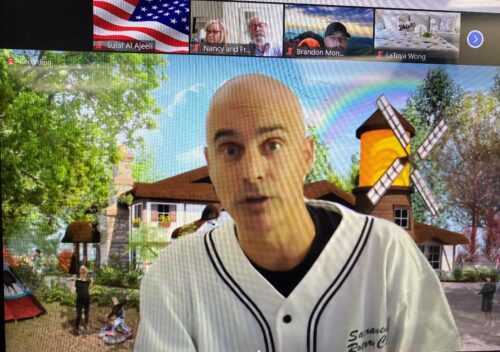 President Elect Bob Miller (First U.S. Credit Union) dressed in his Dodgers cap, shirt and even blackened squares under his eyes as if he were to head out of the dugout, bet his money that the Dodgers will win 3 out of 4 games to claim its 8th National Title. Shaking his team's bobble head, President Elect Bob challenged Giants fans to pony up. He pledged a $50 donation to Golf4Kids if they do and will donate $100 if they fail in winning 3 out of 4. Giants fans, where are you?
The musical interlude to begin the meeting via Zoom was provided by Kerri Woods (Sacramento Region Community Foundation) playing the lovely Irish "Paddy's Waltz" on her flute in her car because a rodent had bitten through their home internet wiring. Now, that's going on with the show!
Past President Fred Teichert (Teichert Foundation) gave the Thought of the Day about opening our hearts and minds in the face of racism and police brutality. Quoting the late Congressman John Lewis: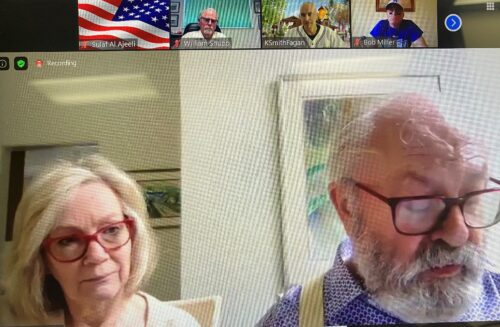 "When you see something that is not right, not fair, not just, you have to speak up. You have to say something. You have to do something…We are one people with one family. We all live in the same house…And through books, through information, we must find a way to say to people that we must lay down the burden of hate. For hate is too heavy a burden to bear."
Only ten days remain until our Golf4Kids tournament, announced co-chair Brandon Montalvo (Morgan Stanley). The silent auction is already underway online and accepting bids. Brandon invited Rotarians to go outside and safely spend time together for the day. Non-golfers are invited to enjoy lunch. All the proceeds will go to benefit five local schools that serve physically impaired students. President Kevin pledged a $250 donation on behalf of anyone who can sink a putt on the specially designated hole.
Nikki Wardlaw (College Track), Chair of the Day, introduced our guest speaker Jake Mossawir, president and CEO of St. Hope Academy, who addressed the challenges facing schools this fall during a worsening Coronavirus pandemic.
The St. Hope charter public schools include Sacramento High and Public 7 elementary and middle schools with an enrollment of 1,300 Black and Hispanic students in the Oak Park neighborhood. CLICK HERE to visit the St. Hope website to learn more. Under Governor Gavin Newsom's mandated orders to control the spread of Covid-19, students will be taught by distance learning in their homes. The students received computers and internet access and instructions on how to listen to teachers via Zoom sessions. The teachers will take attendance and also provide office hours online.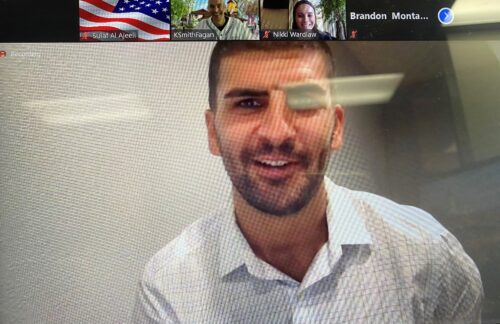 Mossawir reported that distance learning was introduced last spring and resulted in good participation. However, parents are facing tough choices as many of them don't have the ability to work from home, but have to report to their jobs so they must pay for childcare.
Distance learning is not as effective as classroom participation and it will be hard on students too, Mossawir said. Children are now spending more time in their neighborhoods than on campus.  Mossawir noted that there have been two dozen shootings recently and referenced two teenagers who were shot at McClatchy Park. Also, some students come from troubled home environments and prefer to be in the classroom. But, he said, a priority has to be the health and safety of students and staff as Covid cases rise in Sacramento.
"This is a decade long rebound," for schools and students to get back to normal attendance and classroom learning. No proficiency exams are being administered given the circumstances. Mossawir said he fears some parents may turn to home or private schooling meaning they may never return to their public schools. The school's session is slated to begin on Aug. 5, 2020. President Kevin presented Mossawir the donation of 100 vaccinations against Polio as a thank you gift.
St. Hope Academy was founded by former Sacramento Mayor and Phoenix Suns basketball player Kevin Johnson as an afterschool program with a mission to improve the academic outcome of children in our area. From there, it has blossomed into its own independent charter school district and a network of public preK-12th grade charter schools.
CLICK HERE to support St. Hope Academy in making an impact and help the underserved in our community!
Christi Holderegger (Volunteers of America) joined the Pirate ranks by giving $100 to the club in honor of the VOA launching their Operation Backpack program which provided students with backpacks with school materials to 6,000 students last year.  If we band together, we can help Operation Backpack to make a positive impact for hundreds of our local students during this tumultuous time.
CLICK HERE to make your own gift to the Operation Backpack Program!
Please join us next week to welcome guest speaker Cassandra Pye, Executive Vice President and Chief Strategy Officer with Luca Public Affairs, who will provide a fascinating look into response and responsibility to racial and social justice.  Ms. Pye enjoyed a lengthy and successful career in communication, advocacy and politics and served as the Deputy Chief of Staff during Governor Arnold Schwarzenegger's administration.
CLICK HERE for Cassandra Pye's Bio.
Cassandra Pye recently spoke with Sacramento's own Rob Stewart of PBS KVIE's Rob on the Road, for a conversation on injustice, understanding and passion for our Black neighbors.
CLICK HERE to enjoy Rob and Cassandra's interview!
We look forward to virtually seeing you all to discuss this very timely and important subject in today's climate.